Contrary to what you may think, transitioning from relaxed to natural hair does NOT require a big chop (cutting all your hair off).
I completed a long-term transition (18 months) and created this site to share my experiences, motivate, educate and to help you feel confident on your journey.
You'll find inspiration for natural and transitioning hairstyles, tips for detangling, shampooing, preventing breakage, saving money on products, growing long hair and more.
To guide you along, here's an organized sitemap to help you browse by topic.  You can also use the search form at the top of the site.
And if you have questions, come join the forum!  You'll be in the company of fun, supportive ladies (and a few gents too) who enjoy helping each other out.  It's a great place to go if you need questions answered about your hair.
Must-See Transitioning Articles
Products My Hair Loved During The Transition
FAQ's You Must Read About Going Natural
The 10 Step Transitioning Guide to Natural Hair
The Do's and Don'ts of Transitioning
What You Should Expect
Hairstyles I Wore During The First Year of My Transition
My Natural Hair Journey Without a Big Chop
Transitioning Hairstyles
View the Organized Site Directory. A great page to bookmark.
Hairstyling Tips and More
Need Styling Ideas? Check Out My Picture Gallery and Tutorials
Tips for Keeping Natural Hair Moisturized & Healthy
Max Hydration Method – The Key to Moisturizing for Kinkier Hair Types
How to Give Your Hair a Hot Oil Treatment
Can You Change Your Hair Texture?
How to Properly Straighten Hair and Prevent Damage
How to Get Shiny (Sheeny) Hair
6 Game-Changing Habits for Healthy Natural Hair
Got Dry Scalp?  Here are Some Solutions
8 Cool Styling Tips You Can't Miss!
Natural Hair Mantras That Will Inspire (Please Share!)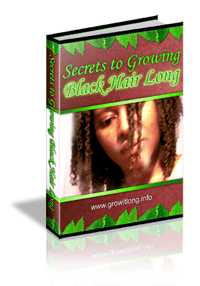 Tips for Growing Long Natural Hair
There are so many myths about our hair, and the biggest one is that it doesn't grow. Certainly, it does. The problem is we just don't retain length due to many different reasons.
Learn more about black hair growth and de-program some of the assumptions you may have about your own hair.
Consider downloading a copy of Donna Hanover's book called Grow it Long. She provides some excellent strategies to retain length and even supplies you with some of her homemade conditioning and moisturizing recipes.
There needs to be more products on the market like this for us. I was happy to support her by purchasing the book myself.
How to Save Money on Natural Hair Products
When I first started my natural hair journey, I used to waste a lot of money buying products I didn't need and I wasn't efficient with my usage.
There are also products around your house you can use as well.
So here are some tips I want to share so you can keep more money in your wallet.
Products I Use on My Natural Hair
I receive so many questions about products I use on my hair today, so I created a page that shows you what I use for shampooing, conditioning, moisturizing and even dry scalp. Learn more about my favorite products.
You Must Learn to Properly Moisturize Your Hair
One of the biggest reasons transitioners and naturals give up on the journey is due to dry, damaged hair.
There really is a science to figuring out what your hair wants because everyone's tresses respond differently to products.  Sure, you can look on the Web for a general guide (for example, it's best to apply a sealant AFTER you moisturize to lock in moisture.)
But when it comes to product choice, how often you moisturize, etc. — that's when you have to experiment and figure out what works best on your hair.
I would highly suggest you try the Max Hydration Method.  It really transformed my process for moisturizing my natural hair and it allowed me to do wash and go's without much hassle.
If you have thicker, kinkier hair AND you follow the process, you will notice a MASSIVE difference in how manageable and moisturized your hair will become.  It will also bring out your natural pattern.
Also check out this general guide for moisturizing your hair.
If you're a transitioner, this one is for you.
Save Money and Get An Amazing Twist Out With Homemade Flaxseed Gel!
Making flaxseed gel is as easy as 1-2-3 and one batch costs less than $1.00 to make.  Not only is it 100% natural, but it gives you great hold for a long-lasting twist out.
And good news transitioners, you can use it too!  Just add perm rods to the ends of your twists while they dry.