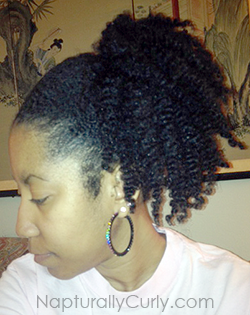 Hello beautiful,
Whether you want to transition from relaxed to natural hair without a big chop like I did or just learn how to maintain healthy, natural hair — this site has it all!
You'll find inspiration for natural and transitioning hairstyles, tips for detangling, shampooing, preventing breakage, saving money on products, growing long hair and more.
To guide you along, here's an organized sitemap to help you browse by topic.  You can also use the search form at the top of the site.
And if you have questions, come join the forum!  You'll be in the company of fun, supportive ladies (and a few gents too) who enjoy helping each other out.  It's a great place to go if you need questions answered about your hair.
Must-See Transitioning Articles
FAQ's You Should Read About Going Natural
Learn About The Carol's Daughter Transitioning Kit
The 10 Step Transitioning Guide to Natural Hair
The Do's and Don'ts of Transitioning
What You Should Expect
Hairstyles I Wore During The First Year of My Transition
My Natural Hair Journey Without a Big Chop
Transitioning Hairstyles
View the Organized Site Directory. A great page to bookmark.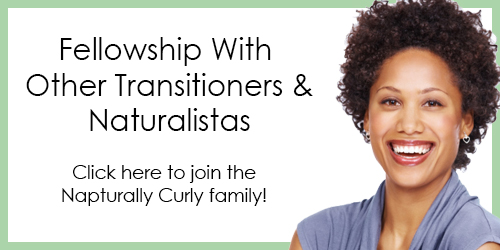 Hairstyling Tips and More
Need Styling Ideas? Check Out My Picture Gallery and Tutorials
How to Make Your Hairstyles Last Longer & Keep Frizz to a Minimum
Tips for Keeping Natural Hair Moisturized & Healthy
Can You Change Your Hair Texture?
How to Properly Straighten Hair and Prevent Damage
How to Get Shiny (Sheeny) Hair
6 Game-Changing Habits for Healthy Natural Hair
Hair Too Short for a Ponytail?  Here's a Quick Trick!
Got Dry Scalp?  Here are Some Solutions
8 Cool Styling Tips You Can't Miss!
Natural Hair Mantras That Will Inspire (Please Share!)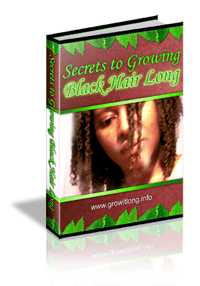 Tips for Growing Long Natural Hair
There are so many myths about our hair, and the biggest one is that it doesn't grow. Certainly, it does. The problem is we just don't retain length due to many different reasons.
Learn more about black hair growth and de-program some of the assumptions you may have about your own hair.
Consider downloading a copy of Donna Hanover's book called Grow it Long. She provides some excellent strategies to retain length and even supplies you with some of her homemade conditioning and moisturizing recipes.
There needs to be more products on the market like this for us. I was happy to support her by purchasing the book myself.
Products I Use on My Natural Hair
I receive so many questions about products I use on my hair today, so I created a page that shows you what I use for shampooing, conditioning, moisturizing and even dry scalp. Learn more about my favorite products.
You Must Learn to Properly Moisturize Your Hair
One of the biggest reasons transitioners and naturals give up on the journey is due to dry, damaged hair.
There really is a science to figuring out what your hair wants because everyone's tresses responds differently to products.  Sure, you can look on the Web for a general guide (for example, it's best to apply a sealant AFTER you moisturize to lock in moisture.)
But when it comes to product choice, how often you moisturize, etc. — that's when you have to experiment and figure out what works best on your hair.
So if you're already fully natural, check out this general guide for moisturizing your hair.  If you're a transitioner, this one is for you.
How to Deal With Critics and Naysayers of Natural Hair
Unfortunately going natural and criticism often go hand in hand.  I don't know a single natural or transitioner who has not had to deal with negative feedback at some level.
There's no denying it.  Straight hair is seen as "more beautiful" in our society.  And even though opinions about natural hair have changed drastically (for the better) in the last few years, a lot of people don't like it and never will.
Fortunately, their opinions are none of your business, nor are they your problem unless you allow them to be.
If you need some pointers on how to deal with those negative and downright rude people in your life, this article will offer up some productive ways to handle them.
A Guide to Using Heat on Your Hair
I don't use a lot of heat on my hair.  In fact, the only time I do is if I sit under the dryer for deep conditioning — and many would not even consider that using heat since the purpose is to deep condition.
When I was transitioning I did sit under the dryer to dry my rod sets, but it was only for 20 minutes and on medium heat.
Constant use of heat can damage your hair and excessive heat will ruin your hair's curl pattern.
Nevertheless, that doesn't mean you cannot use it in moderation.  Just make sure you follow these guidelines on straightening your hair.