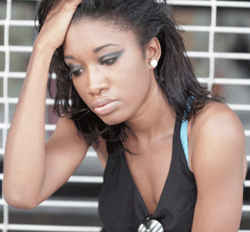 Dryness is the #1 problem I hear from other transitioners.
I had this problem the first 4 months of my transition so I'll discuss a few of the reasons you may be experiencing dryness and offer some solutions.
Great Moisturizers
Below are some wonderful moisturizers for transitioning or natural hair.
Jane Carter Nourish and Shine
Shea Moisture Products (Found at Walgreens or Target)
Shea Moisture Leave In Conditioner (OMG! Love this stuff!)
Qhemet Biologics Amla and Olive Heavy Cream
Oyin Hair Dew
Application Tip:  After shampooing your hair, apply the moisturizer to wet or slightly damp hair for best results.  Then use a sealant (oils or butters) to lock in the moisture when the hair is dry.
Jane Carter Nourish and Shine can actually act as a moisturizer and sealant.
Remember, true moisturizers have water as the first or second ingredient.  Oils and butters are sealants and should be applied after the moisturizer.
Hot Oil Treatment
Hot oil treatments are fabulous for dry hair — especially in the colder months.  This is a great way to revive your dull, brittle hair.
Learn how to make your own hot oil treatment for your transitioning hair.
Scab Hair
Scab hair results when your follicles produce a protective coating over your hair to shield against too much processing (relaxers).
When you have scab hair, your hair is dry, brittle and does not absorb moisture well. You may find yourself applying every moisturizer under the sun, but nothing seems to work.
As long as you cease using chemicals, scab hair is temporary.  How long it lasts, depends on the person.  Mine lasted about 4 months post chemicals, but it can take up to a year for some people.
So don't be discouraged if your hair is super dry in the early months of transitioning.  It may be scab hair and not your actual texture.  You'll just have to wait it out and see.
Continue to deep condition your hair weekly, limit heat and use moisturizers that list water as the first or second ingredient.
We were always trained to believe water is the enemy when it comes to our hair, but you will soon discover as a transitioner and natural, that water equals moisture.
I always use conditioners (Oyin Honey Hemp, for example) that contain a lot of water (i.e. the first ingredient).
Too Much Product
This is a bigger problem than most people realize.
When you get into that 3rd month or so and your texture starts showing, you may be tempted to change it or want it to look like someone else's.  Or perhaps you're suffering from scab hair and you're just trying to soften your tresses up.
Trust me, I've been there.
First of all, it's expensive to keep buying products.  Second, you are suffocating your hair and the more you coat it with products, the less it will absorb anything.  This can lead to dryness and ultimately more breakage.
Your hair is delicate enough in its transitioning state, so excess product just makes the problem worse.
Let your hair breathe. (wooooo-saaaaahhh!)
Find a good moisturizer that works for your hair and stick with it.  And when styling your hair (roller sets, twists, etc.) keep a water bottle handy and spray the hair prior to setting/styling.
Remember, water equals moisture.  Again, it really is your friend, not the enemy.
Limit The Heat
I say "limit" but I really should say STAY AWAY from it.  Now, you want to talk enemies?  Heat is definitely one of them when you are transitioning.
But if you must use it, always apply a heat protectant (grapeseed oil is a great natural one), and try not to use it more than once or twice a month.
And if you're sitting under the dryer, that's fine.  Just use medium heat and try to limit your time to 20-30 minutes.  I often let my hair air dry when transitioning.
If you must use heat on your hair for styling, be sure to read my guide on flat ironing/straightening your hair.
Deep Condition
I think this is what saved me in my early days.
And when I say deep condition, I REALLY deep conditioned.  I sat under the dryer for 30 minutes with a plastic cap then I let it sit for an additional hour before rinsing.
I kept it simple with the product and used Organics Olive Oil Replenisher (purchase at local beauty supply and Target).
Always remember to coat your ends.  The ends of your hair are the most delicate and worn because they are the oldest.  So take care of them.  Especially if you are doing a long-term transition.
You may even want to try steaming your hair.  The Heutiful Hair Steamer is quite the investment, but many people say it's really helped soften their hair and make it feel more moisturized.
Pre-Poo Before Shampooing
Your hair is most delicate when wet so give it some strength before you shampoo.  Keep it simple.  Just apply a natural oil like olive oil and perhaps a cheap rinse-out, moisturizing conditioner.
Don't forget the ends and add a plastic cap to create added moisture.
Eliminate Sulfate Shampoos
Sulfate dries the hair and strips all moisture.  Many, many companies are now making sulfate-free shampoos.  I use Come Clean by Kinky Curly (Target) and Giovanni products (Walmart).
Co-Washing
I never did this because I like suds (lol), but many transitioners and even naturals find co-washing (shampooing with conditioner only) is a great way to keep the hair soft and manageable.
Instead of co-washing, I often dilute my shampoo with water before applying it to my hair.  You'll be surprised at how little product you need to clean your hair and scalp.  You really only need to focus on cleansing your scalp.
The shampoo will run down the shaft to clean the rest of your hair.  Not to mention, this saves product and money! 🙂
Update:  After I transitioned, I did start co-washing when I began wearing wash and go puffs.