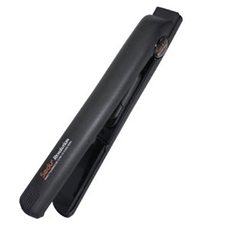 Whether you are transitioning or natural, caution should be taken when applying heat to your hair.
There's nothing wrong with the occasional flat iron or press, but you can overdo it and alter your curl pattern permanently.
And if you are transitioning, it can accelerate breakage — which may cut your transition shorter than you desire.
Here are some tips to ensure your hair stays healthy during your heat application
1) Deep Condition First
Deep conditioning strengthens the hair and should be done before any sort of major application like heat styling and even coloring the hair.  It's all about giving your hair that strength prior to applying any heat.
Let the deep conditioner sit on your hair for at least 30 minutes, and to get the maximum benefit, sit under the dryer with a plastic cap on.
2) Blow Dry on The Coolest Setting Possible
When preparing to straighten your hair, blow dry on a cool to medium setting.  The cooler the better, of course.
3) Always Use a Heat Protectant
Apply this to your hair before straightening to add a layer of protection on your hair.  Some people use it before blow drying and flat ironing just to be safe.
If you want to go the more natural route, grapeseed oil is also a great protectant and can typically be found at most health food stores like Whole Foods.
I would recommend buying the salon-grade protectants that you can find at Sally's or other professional beauty supply stores.
4)  Minimize Heat Exposure
If you're transitioning, heat is really the enemy, so if you must use it, try to keep it down to 1-2 times per month if you can.
Heat not only makes your delicate, transitioning hair brittle, but you can dry it out and alter your natural hair pattern as well.
If you're natural, you may find that you can straighten more often, but I would still recommend limiting the amount of heat exposure as much as you can because you can get heat damage and ruin your curl pattern.
You will know when this happens because your hair will not curl up anymore.  It will look straight or semi straight like processed hair.  Sometimes you can nurse the curls back by shampooing and deep conditioning, but if the damage is too severe you'll need to trim it off.
How often you can flat iron/press is really up to your individual hair and how much heat you use, so just be careful.
5) Watch The Temperature
Never, ever buy a flat iron that does not have a temperature control.  If you want to keep from altering your curl pattern, try not to exceed 350 degrees.  In fact, go as low as possible.  If you can straighten your hair at 300 or 325 degrees, then that's even better.
6) Don't Go Bone Straight
Aim for a semi-straight look.  No, it won't last as long but you will protect your precious tresses. 🙂
You may want your hair as straight as possible, but going over and over the same strands with the flat iron can ruin your natural curl pattern.
Press your hair in small sections and only go over it once.  Avoid using repeated heat applications on the same section of hair.
7) Avoid Dominican Blowouts!
I know they straighten better than anything in the hairstyling world, but I've heard so many horror stories about ruined curl patterns after getting one of these treatments.  This is just way, way too much heat for both transitioners and naturals.
Yes, there are always the exceptions and not every person has damage from these blowouts, but let's just say I've heard of many more people who suffered damage than those who didn't.
Now, if you are a natural who plans to wear your hair straight all the time, then loss of curl pattern may not be a concern.  However, if you want to go back and forth between curly and straight, be careful with excessive heat treatments.   And always make sure a protectant is used.
8) Use Ceramic and Tourmaline-Ceramic Products
Yes, these flat irons are going to cost you a little more, but they will lessen the chance of damage and work better.  Look for the labels that say 100% ceramic.
The coating on the cheaper flat irons will often wear off, and that's a surefire way to damage your hair.  Trust me, this is one area where you probably want to splurge.
NOTE:  I am not a flat iron expert.  Just like with products, you have to experiment and see what works for your hair.  I can tell you that a lot of naturals seem to prefer the Sedu brand.  They make a very good quality, Tourmaline Ceramic flat iron with a temperature control.  Just please be careful and use at your own risk.