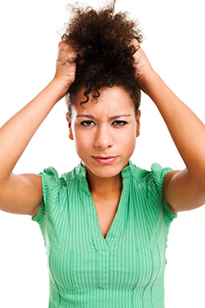 Heat damage occurs when you have permanently altered your natural curl pattern by using too much direct heat (flat irons, blow dryers, etc.)
Signs of Heat Damage
Hair no longer returns to natural curl pattern (hangs limp/straight)
Ends are overly dry and splitting
Hair looks and feels dull
Repairing Damage
You may be able to recover from heat damage if it's not too significant, however sometimes it's irreversible.
Deep condition your hair for at least 30 minutes (preferably under the dryer with a plastic cap).  You can also wrap your hair in a warm towel after applying the conditioner.
Try a hot oil treatment and leave it in overnight.  Shampoo and condition your hair in the morning.
If only a small section of your hair is damaged, you can use small perm rods to curl the ends while your hair grows out.
However, you may find it easier to just trim the damaged hair off — especially if the hair texture of the damaged portion is drastically different from your natural hair.
Sometimes it can be more work trying to hang on to the heat damaged hair.
Preventing Damage
It is very difficult to avoid heat damage if you flat iron your hair regularly.  Even if you use a heat protectant, you still run the risk of damage because your hair can only take so much heat.
Even though our hair seems "tough" it's actually very, very fragile.
If you must flat iron or press your hair, try to limit your heat applications to once every other month and use lower temperatures.  Check out these guidelines on straightening your hair.
Deep Condition Before Applying Heat
If you are going to use heat on your hair, give it a good deep conditioning to help strengthen your strands.
And of course, always use a heat protectant.  You can buy these products at almost any beauty supply or use grapeseed oil if you want to go the more natural route.
Just remember, if you flat iron your hair regularly (multiple times per week) it is going to be more difficult to maintain your natural hair pattern.  The less heat you use, the better.
Got Dry Hair?