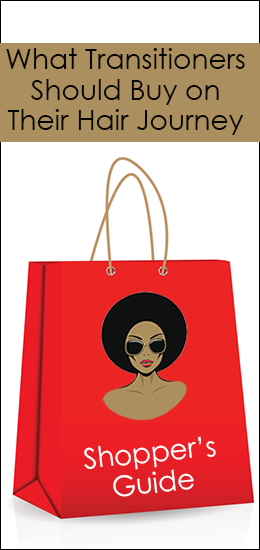 Here are some essential products you'll want to have on hand as you transition.
Hair Cutting Scissors
If you are going to transition without the help of a stylist, it's important that you keep your ends trimmed along the way.
Just make sure you use hair cutting scissors instead of paper cutting scissors.  The latter will cause split ends and you'll get even more breakage.
How often you trim is going to depend on the health of your hair.  If you experience breakage, then you may have to trim more often.
You can get hair cutting scissors at Sally's Beauty Supply or online.
Warning:  Yes, they are more expensive than your average pair of scissors.  You are getting a better quality product with sharper blades that are not going to split your ends.
Moisturizing Shampoo
Dryness will be your biggest battle as a transitioner and naturalista.  Shampooing can strip natural oils, so it's important you use a non-sulfate shampoo and preferably one that says "moisturizing."
Of course you can replenish moisture with a rinse-out and deep conditioner, but it doesn't hurt to use nurturing shampoos as well to put moisture back into your hair as you shampoo.
My favorite:  Giovanni
Learn more about moisturizing your hair.
Rinse Out Conditioner
You may not have time to deep condition your hair.  If you can't, at least use a rinse out conditioner to soften your hair up.
I also use rinse out conditioners before I shampoo.  Mist your hair with water and add a conditioner, then detangle and section your hair off.  It makes it much easier to detangle and then you can shampoo your hair in sections.
My Favorite: Aussie Moist (I buy at CVS or Walgreens).
Here's a video where I'm raving about the product.
Deep Conditioner
If you have really thick/kinky hair, you need a thick, moisturizing conditioner to penetrate those strands.
Forget the wimpy, milk-like conditioners. Those are fine for rinse-out jobs, but if you want to soften your hair, make sure you have a nice, deep conditioner.
My favorite: Organics Olive Oil Replenisher
Daily Moisturizer / Leave In Conditioner
You may find that you don't have to moisturize your hair daily, but you should do so at least 3 times per week (maybe more if your hair is dry.)
A moisturizer is a product that has water listed as one of the first two ingredients.
Butters are sealants and should be used on top of the moisturizer.
My favorites: Shea Moisture and Qhemet Biologics Amla and Olive Heavy Cream
Sealants
As I just mentioned, sealants like natural oils (olive, castor, sweet almond, sunflower, etc.) and butters will lock moisture in.  So after you apply a moisturizer, top it off with your favorite sealant to help keep your hair moisturized.  This is especially important in the winter.
My favorite: Jane Carter Nourish and Shine
Setting Lotion
If you do any kind of style like a rod or straw set you will need a setting product to help hold the style.  Apply this while your hair is wet for the best hold.
I recommend Bronner Brothers Foam Wrap Lotion.  It has a nice hold but contains no drying ingredients like alcohol.  You can buy it at most beauty supply stores.
Wide Tooth Comb
This is a detangler's Godsend.  The further apart the teeth are on the comb, the gentler it will be on your hair.  As your hair starts to grow out, you will need to detangle in sections and that's when a wide tooth comb really comes in handy.
In the early days, you may find your original comb works fine, but have that wide-tooth waiting in the wings for when your hair starts to grow out at the roots.
Hair Gel
I'm not a big fan of using a lot of gel, but it can be good for slicking down your edges as your hair grows out.
Buy IC Fantasia because it doesn't have alcohol and won't flake up like so many of the other brands.  Eco Styler is another goody but it is not alcohol free.
Plastic Caps
Plastic caps are great for deep conditioning your hair while you're under the dryer, but they also serve another conditioning purpose.
Look, we don't always have time to sit under the dryer for 30 minutes, right?  So you can also deep condition your hair while you're doing things around the your house.
Simply add a deep conditioner to your hair.  Then take a warm wash cloth and place it under the plastic cap.  Now you can condition your hair and not be confined to sitting under the dryer.
Perm Rods
Rod sets will be one of your staple styles once you learn how to master them.  They last forever and they are a great, no-heat style for transitioners.
You can buy perm rods from almost any beauty supply store and they come in a variety of different sizes.
I prefer the smaller ones because they create tighter curls that last longer.  Plus, they're easier to sleep in.  Larger ones will give you looser curls, but will frizz faster.
Beanies, Hats, Wigs etc.
Don't be ashamed.  As you are learning how to style your hair, you may have some experimental styles that may not turn out the way you'd hope.  Trust me. It happens to all of us.
Keep a few hats, wigs and beanies handy in case you need an emergency cover-up.
Below is a wig I picked up at a local beauty supply store.  It was much longer, but I trimmed it so it would be similar to my hair's length.  I liked that it looked more like a natural hair twist out.  (Sorry, I don't remember the name of the wig.)
I didn't want something too straight because I wanted to get used to seeing myself in more textured styles.
Not to mention, hats and wigs are a fun way to change up your look from time to time.
Silk/Satin Scarves and Bonnets
Remember you want to lock in as much moisture as possible as you transition.  Cotton scarfs, wraps and can dry your hair out immensely because they soak up oils, and cotton pillow cases can cause breakage as you rub up against them at night.
Tie your hair up at night with something made of silk/satin or sleep on a satin pillow case.
Duck/Hair Clips
As your hair grows and you begin to do different styles, you'll need duck clips to tuck hair out of the way while you work on one section at a time.
You can buy them at any beauty supply store.
Headbands
Not only do headbands jazz up any style, but as your style gets older, they're great for covering up unruly edges.
You can buy these almost anywhere: beauty supply stores, Target, Walgreens, CVS, Ulta and online.
I like the ones that fan out like this because they provide more coverage for style and hold down thick hair.
Spray Bottles
When you style transitioning hair, you want to make sure it stays damp so it's easier to manage.  You can also use them to mix moisturizing concoctions like water, aloe vera gel, a leave-in conditioner, etc.
Experiment with products and have fun!
Bobby Pins
Pin-up do's are classy, yet protective styles that is also weather-friendly.  You can also use pins to hold down sections of your hair for various styles.
Sally's sells a brand called MetaGrip Premium Bobby Pins.  These are not your average bobby pins that lose their shape, peel, etc.  They are sturdy and hold hair very well.
I've been using the same ones for several years and all the pins are holding up well.  I never have to throw any away.  Definitely worth the investment!