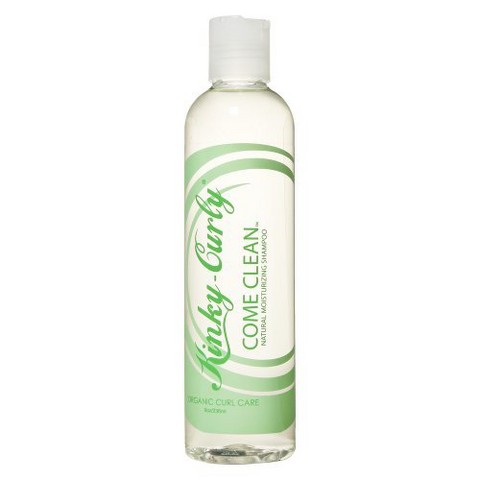 I have a new favorite shampoo/conditioner combo. Today I tried Kinky Curly's Come Clean Shampoo and their Knot Today Conditioner.
Both products are all natural and smell very nice.
I had very little breakage when I combed my wet hair out, and I am 2 1/2 months post relaxer/texturizer.
Normally my hair breaks a lot when I comb after washing (especially multiple weeks after a process), but the Knot Today is such a great detangler, it kept breakage under control.
My hair also had an incredible amount of sheen after washing.  I could tell it didn't strip natural oils and replenished moisture to my hair.
It's a bit pricey at $12 (8 oz.) for each product (bought at Whole Foods), but if I continue to get these kinds of results during my transition and after, price is not much of a factor!
After I washed and shampooed, I applied their Curling Custard.
You can see my hair immediately after washing in the video below…
Update 2/2011: Looking back on this video, I had no business using the Curling Custard with so little natural hair.  This is really not for transitioning hair.  Definitely a hair faux pas on my part!
Also, the Come Clean Shampoo is an excellent clarifyer for removing excess product, dirt, etc.