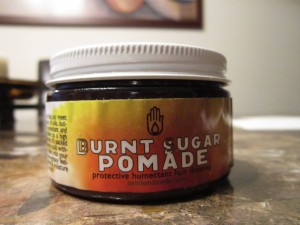 Let me start off by saying…
One whiff of this stuff will make you want to eat it!
It should be against the law for a company to make a non-edible product smell so friggin' good. 🙂
Nevertheless, I have been reading all the hype about how great Oyin's Burnt Sugar Pomade is.
So I bought a jar and tried it as a moisturizer on a finished rod set.  I also used it on wet twists a few times.   And to sum it up…
I wasn't impressed.
Yes, it added a bit of shine, but my hair didn't feel as good as it does with other butters.
I also couldn't get the product to completely dissolve, so I ended up with tiny grains in my hair — not a good look!  Yes, they instruct you to rub the product between your fingers — and I did — but it took quite a bit of work to get those beads to dissolve.
Take Two
I later learned that pomades work best on dry/slightly damp hair.  So I re-twisted some old twists using a tiny bit of water and some of the pomade.
Here's the result…
I still battled the graininess, but this is the most luscious my twists have ever looked and they feel incredibly soft.  I'm not sure if it's the pomade or a combination of the product and the fact my hair already has some oil/product in it.
Now that I know how and when to use it, I may add it to my list of staples — for dry twists anyway.  Just in time too.  This jar was on its way to the back of my cabinet. 😉
This is NOT a Moisturizer
I have a bad habit of calling products like this moisturizers. They may feel like they are moisturizing your hair because your hair will feel soft.
But real moisturizers have water as the first or second ingredient. So when I dampened my hair before adding the product, the water was my actual moisturizer.  Oyin's pomade actually SEALS in the moisture.
So if you want to keep your hair moisturized, you should use a bit of water to dampen your hair before applying.  Don't soak it with water because it won't blend well.  Just a couple of spritz per section of hair will do.