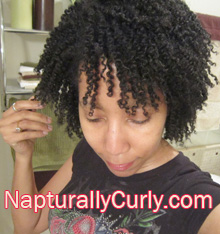 I just said "Bye Bye" to twisting my hair while it's wet.
Not only was I able to twist my hair much faster when it was dry (not sure why), but the twists were neater and I retained more length with my twists and twist outs.
My Routine
1) I washed my hair and put it in about 12 gigantic twists and went to sleep.
2) The next morning my hair was completely dry and I began twisting my hair like normal with Taliah Waajid's Lock it Up gel (which can be purchased at any beauty supply).
3) I left the twists in for almost two weeks and then wore a twist out the remaining week.
Twist Out Length Comparison
Notice the difference in my twist outs below.  The pic on the left is a twist out from twists done on wet hair.  The pic on the right is a twist out from twists done on dry hair.
These pictures were only taken about 3 weeks apart so I didn't have that much more new growth.  You can see the length retention in the picture on the right.
My hair is sort of pushed back in the first pic, so I realize that is making it look shorter.  However, you can look at my bangs and see how much more length I retained.
Quick Video of My Twist Out
Here's Another Video That Shows Me Twisting & Prepping For the Twist Out
More Two Strand Twisting Tips
1. Twisting your hair while wet will give you a more shrunken look, but your twists will set better.
2. To get more length, let your hair dry stretched by either blow drying it, banding it (section your hair and put rubber bands at the top, middle and bottom of each section) or putting it into large twists.
When your hair is dry, apply your twisting cream of choice and your twists will retain more length
3. Always make sure your sections are thoroughly detangled so you'll get a smoother finish with your twist out.
4. The smaller your twists are, the curlier/fuller they will look because your hair takes on your natural hair pattern.
5. Want your twist out to last longer?  Leave the twists in for multiple days.  I've found that if I can leave them in for at least 4 days, I can get 7-10 days out of my twist out.
6. If you're transitioning, buy small perm rods and roll the ends.  The smaller the twists, the better.  If your twists are too large, it will be harder to set the ends.
7.  Sleep in a satin bonnet to preserve your style.