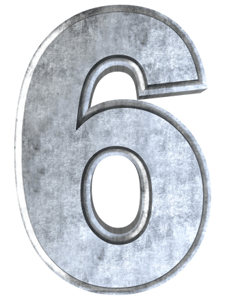 I'm coming up on my 6th month of being completely natural and want to share some quick tips that I've learned during this journey that have improved my hair's health.
I remember the early days of my transition and how dry and coarse my hair felt as it began to grow out.
I thought there was absolutely NO WAY I was going to go through the transition successfully.
However, after about two months into it, I started changing my routine.
I still do all these things today because I believe they make a tremendous difference in how much my hair maintains moisture, length retention and overall scalp health.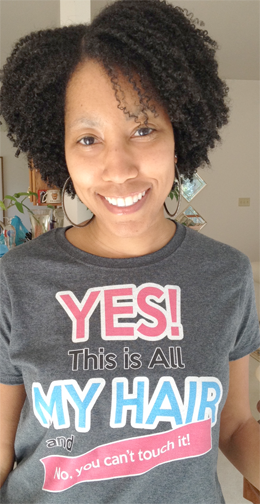 1. Pre-Pooing
Pre-pooing is the process of moisturizing your hair prior to shampooing so the shampoo does not strip your hair's natural moisture.
Of course, using a sulfate-free shampoo will help retain moisture, but stripping can still occur.
For my pre-poo routine I use olive oil and a rinse-out conditioner like Suave Naturals or any conditioner that says "moisturizing" on the label.
Also, save your money.  You don't need to use an expensive product for this process.
I don't measure the amounts.  I just use a couple of handfuls of both the olive oil and conditioner for each section of my hair.  I keep my hair in 6 sections throughout my shampoo/conditioning process.
I leave the mixture in for at least 30 minutes and sometimes spray my hair with water prior to applying to help the mixture absorb better.
2. Apple Cider Vinegar Rinse
I have naturally dry scalp. It improved once I became natural, but I still battle occasional dryness — especially during cooler months.  However, I've discovered one technique that has helped tremendously.
Before I shampoo my hair, I massage one part water and one part organic apple cider vinegar into my scalp.
Make sure the label reads "With the Mother."  That's how you ensure it's organic.  This is not to be confused with the kind you buy in grocery stores.
I let the mixture sit for at least 30 minutes before I shampoo.
ACV kills the bacteria that causes dandruff, which often results in dry, itchy scalp.
I also use the same mix as a final rinse on my hair.  Not only does it promote long-term shine and lock in moisture, but it starts the detangling process.
I wouldn't do this treatment any more than once per week.  ACV is very acidic and can damage your hair if used too often.
In fact, start with a smaller amount of vinegar and work your way up just to make sure your hair can handle it and always make sure you dilute it.  (Start with 3 parts water and one part vinegar.)
Also, be careful because it will sting if it gets into your eyes.  Apply with an applicator bottle.  Tilt your head back to apply so the solution runs to the back of your hair and not into your face.
3.  Deep Condition
I know this is not an earth-shattering tip, but too many people skip this step because it takes too much time.
Now that my hair is healthy, I do sometimes skip the deep conditioning process, but when I was transitioning, this was a must.  And if I skipped a week, I could tell the difference in how my hair felt.
In general, when I deep condition my hair, I retain moisture better and my hairstyles seem to last longer too.
My deep conditioner of choice is Organics Olive Oil Replenisher (beauty supply).
4.  Clarify At Least Every 4-6 Weeks
If you don't use a lot of creams and butters on your hair then this may not be necessary.  For example, a new transitioner may not need to this.
However, natural hair products are often thick and contain a lot of rich, buttery ingredients that cling to the hair shaft.
Over time, these products build up and can make your hair appear dull or even break off.   You may think you are thoroughly cleaning your hair with a regular shampoo, but there may be more product on your hair than you think.
You can buy a clarifying shampoo at almost any health store these days, but be careful. Some of them are very harsh on our hair.
I like Giovanni's 50:50 Balanced-Hydrating Clarifying Shampoo (Walmart).  Notice the word hydrating.  This is important because it is also adding back moisture into your hair.
Kinky Curly's Come Clean shampooo (Target) is another goody for naturals/transitioners because it doesn't dry or strip the hair AS LONG as you use a small amount.  I made the mistake of using way too much at first.  A little goes a long way.
In fact, I use this product every week and don't really need to clarify my hair often.  It's strong enough to cleanse my hair well, but not so strong that it strips the moisture.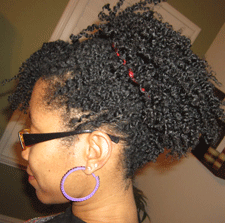 5. Cold Water Rinse
This tip is less about health and more about appearance. Nevertheless, it's no fun — especially if you wash your hair in the shower.  However, it's an important step if you want to promote shine.
Warm water opens the cuticles and lifts them up on your hair strands.  Imagine shingles on a roof.
When you rinse with cold water, this closes the cuticle so it gives the hair a smoother finish, which makes it look shinier.
If I'm doing a final vinegar rinse that I will leave in, I'll just mix my vinegar with cold water to receive the benefits of both.
6. No Sulfates
I realized an immediate difference in moisture retention when I dropped sulfate shampoos.  Natural hair is dry enough and harsh sulfates will just make things worse.
My two favorite no sulfate shampoos are Kinky Curly Come Clean (Target) and Giovanni Tea Tree Triple Treat (Walmart sells this $3 cheaper than most retail and beauty supply stores.)
Some people prefer to no-poo which means you wash your hair with a conditioner.  I personally prefer shampoo.
I use twisting creams often so I want to make sure the product gets completely washed out.
7. Keep Your Hair Moisturized
One of the top reasons for natural hair breakage is lack of moisture.
If you read no other article on this site, make sure you check out these tips on how to keep your hair moisturized.
——————————-
Start doing these things regularly, and I bet your natural/transitioning hair's health and appearance will improve.