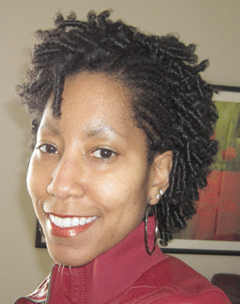 This is the first full-head rod set I've done since my transition in late 2010.  Whew!  What a task considering how much hair I have now compared to then.
First, here's a list of the products I used and my routine.
Products
Pre-Poo: Water, Suave Naturals Coconut Conditioner (any drugstore) and Olive Oil
Shampoo: Kinky Curly Come Clean (Target)
Deep Conditioner: Organics Olive Oil Root Stimulator (Beauty Supply)
Leave-in Conditioner: Oyin Handmade Honey Hemp (Online)
Setting: Curls' Goddess Curls (Target) & Fruit of the Earth Aloe Vera Gel (Walmart)
Moisturizer After Rod Removal: Jane Carter Nourish and Shine (Target)
Routine
I sat under the dryer for about an hour and slept in the rods the first night. After that, I slept in a large satin bonnet without rods.
On day 6 I added a headband (see video below) and wore that look for an additional 3 days.
I re-moisturized my hair with natural oils every 3-4 days.