Knowing what your hair's porosity is will help you better understand how your hair reacts to moisture.  So if your tresses are always dry/don't seem to react to products or frizz easily, gaining insight to porosity can help.
What is Hair Porosity?
Each strand of hair has a layer called the cuticle.  Porosity refers to how much moisture gets inside the cuticle layer along the hair shaft.  See the illustration below…
This is how I remember what each porosity means…
Think of porosity as the number of pores or holes in the hair shaft.  If you have low porosity, (fewer pores) water/moisture can't get into hair.  Your strands act as repellents.
After you shampoo your hair, do you notice small droplets of water sitting on your strands?  You probably have low porosity hair. That means water (which is the best moisturizer) cannot penetrate.
With high porosity, think of having too many pores/holes so too much moisture gets into the hair.  The hair can frizz and tangle very easily. Moisture also escapes very quickly with high porosity hair so that type of hair can dry out easily.
High porosity hair often comes from heat or chemical damage.  When your hair is damaged, the cuticles raise up.
The Hair Porosity Test
The easiest way to find out your hair porosity is to get a glass of water and put a clean strand of hair into the glass.
Let it sit for a few minutes.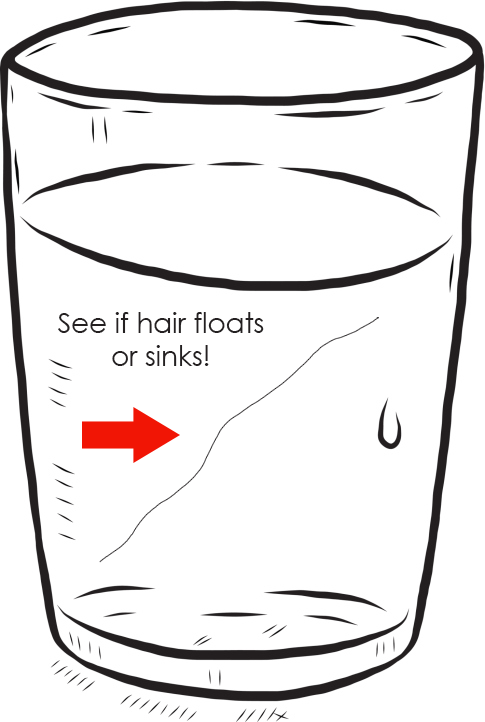 If it floats, you have low porosity.  If it sinks, you have high porosity.  Again, think of the number of pores/holes.  If you have fewer holes, less water can get in, so the strand floats.  If you have more pores, then too much water gets into the strand and it sinks.
If it floats for awhile and then sinks, I would still consider your hair to be high porosity.
Yes, you can do this test even if you are not completely natural.
Low Porosity Hair Tips
Lo-po hair loves rich, buttery products like shea butters, rich natural oils like jojoba, castor, and coconut.  It's a big fan of emollients! It may even react favorably to the preservative mineral oil — which is often seen as a no-no in the natural hair community.
I never understood why my hair seemed to do well with products that contain mineral oil.  After I did the porosity test, I now know why.
Watch out for conditioners that are rich in protein because they can leave a lot of build-up on the hair.
Hair steamers and conditioning treatments with heat are great for lo-po hair because they raise the cuticle more and allows more moisture to get in.
High Porosity Hair Tips
Leave-in conditioners and sealants are a MUST with high-po hair because you lose moisture so quickly.  So after you apply your moisturizer, add a heavy butter or other sealant to lock in that moisture.
Stay away from humectant products (honey, castor oil, etc.) because they draw too much moisture out of the air and into your hair.
You may want to try Aphogee's Protein Treatment to strengthen your hair.  (Don't do more than every 6 weeks.)  Here's a homemade protein treatment that I love. NOTE: Omit the honey as it's not good for high porosity hair.
Also, look into deep conditioning your hair with a hair mask.
_____________________
You want to aim for normal porosity (cuticles slightly raised), where you're able to let in enough moisture, but not so much your hair gets frizzy and tangled.
NOTE:  If your hair is kinky, you are going to have to deal with frizz at some level.  It doesn't always mean it's the porosity that's causing it.  There is no way to completely eliminate it, but you can minimize frizz with the tips above should you discover you have high porosity hair.
Get more natural hair moisture tips here.
Read about the Max Hydration Method.