So you just big chopped your hair or maybe you've had a short 'do for a while now, and like a lot of women, you have mixed emotions…
If you transitioned, you're relieved because you don't have to manage two textures anymore
You're anxious because you want your hair to grow
You're overwhelmed because you aren't sure which products to use
You're disappointed because you can't seem to maintain moisture in your hair
Don't worry.  By the end of this article you are going to feel much more comfortable and confident with your new hairstyle.
Short Hair Has Its Advantages!
If your hair is super short, you have some nice benefits, so embrace them.  The first benefit is you can wash and go with ease.  I long for that some days.
Second, your products will last longer due to the fact you don't need as much.
If your hair is shorter than you hoped it would be, relax.  It will grow quickly as long as you moisturize regularly and take good care of your hair.
I know so many people who were devastated after their big chop and quickly grew to embrace their hair because of the benefits such as lower maintenance.
Hairstyle Ideas for TWAs (teeny weanie afros)
If you're looking for some styles for your short hair, check out the videos below…
Coil Outs
All you need is some gel/pudding, a comb and you are ready to go!  Here's a great tutorial video…

If your hair is shorter than hers, you can still accomplish this style.
Rod Sets
This is a great long-lasting style for short or long hair.  The key to making them last is to use a good setting product and small rods. The smaller the rod, the tighter the curl, and the longer the style will last.
Check out this video…
Twist Outs
This is no doubt the most popular hairstyle for naturals no matter if you have a TWA, medium length or long hair.  To make your twist outs last…
Use smaller twists
Twist firmly (pull downward very gently as you twist to get a firmer twist)
Use a product with hold
Check out my article on achieving the perfect twist out
Here's a great twist out video…

If your hair is longer than a TWA then check out my hairstyles page here. 
Overwhelmed By Products?
Figuring out what products your hair likes is a journey.  It's important to know that everyone's hair responds differently so you can't assume that your hair will react the same way someone else's does.  Here are the basics…
Try to use a family of products because they often work harmoniously together.  For example, Shea Moisture has shampoos, moisturizers, conditioners, etc.
Don't use too many products at once because you won't know what's working and what's not.
Main Products You Need: a sulfate-free shampoo, rinse out conditioner, deep conditioner (used weekly), daily moisturizer (used as often as needed), stylers (gels, puddings, etc.)
Here's my full list of products I use and discover how to save money on natural hair products.
Keeping Your Hair Moisturized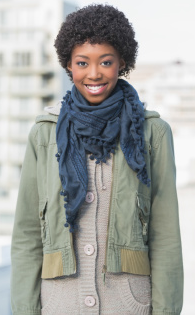 Here are the basics for keeping your hair soft and moisturized.
Make sure your moisturizers have water listed as the 1st or 2nd ingredient
Oil is not a moisturizer.  It's a sealant.  So add oils AFTER your water-based moisturizer to seal it in.
Create a daily (or almost daily) moisturizing spritz with water, a few teaspoons of a leave-in conditioner and a few drops of your favorite natural oil.  Spray/mist your hair when it feels dry.
How often you moisturize will depend on your hair.  If it feels dry, add more moisture.  Also, your hair will dry out faster during the winter.
Be sure to check out my moisturizing tips page.
"My Hair is Not Growing!"
Everyone's hair grows.  So if you feel that yours is not that means you are not retaining length and your hair is breaking off.
Be sure you keep your hair moisturized, sleep in a satin bonnet, use water-based moisturizers, try low-manipulation styles like twists and rod sets and keep your ends trimmed.
The best way to retain maximum length with natural hair is to LEAVE IT ALONE and keep it moisturized.
Wearing your hair loose can cause knots (especially if you aren't trimming your hair regularly).  Switch it up and give your hair a break sometime by wearing styles that don't require much manipulation.
If you can't seem to figure out why your hair is breaking, seek help from a professional.  You can also get more advice about hair growth here.
How Often Should I Trim?
That depends on your hair.  For example, if you wear your hair loose a lot (fros, twist outs, etc.) and it's longer than a TWA, you may have to trim more often because your ends will wear faster.
However if you wear a lot of twists, extensions, protective styles (ends are tucked away), etc. you may discover you don't have to trim as often.
There are a few ways to tell if you need a trim…
Your ends feel rough or knotted
Your small twists unravel easily (you should be able to seal your small-medium sized twists by using a twisting cream and rolling the ends around your finger).
You see excess breakage
If you really want your natural hair to grow long, you must read this article about preserving and protection your ends.
Visit YouTube Often!
I have saved so much money on hairstyling fees since going natural because I learned to do so much myself.  I even trim my hair by twisting my hair in fairly large twists and then trim the same amount from each twist — a trick I got from YouTube!
So if you're feeling frustrated, always check that site for some maintenance and styling inspiration.  Trust me.   I was NEVER one to do my own hair but YouTube changed the game for me and so other naturals.
Welcome to Team Natural and enjoy your journey!  If you have questions, join us in the forums.