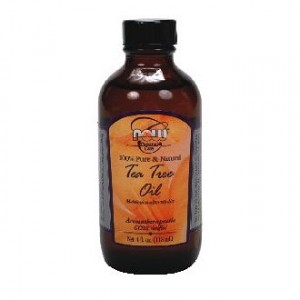 I have battled with a dry/itchy/flaky scalp all my life.
Even though my situation did improve tremendously once I went natural, I still have issues — especially at my hairline near the forehead and also in my crown area.
For awhile, I tried mixing organic apple cider vinegar with water and applied to my scalp before and after shampooing.  I saw minimal results, but my scalp began itching/flaking 2-3 days later.
The vinegar mix seemed to work well for the itch, but not as good for the flaking.  Next, I tried adding tea tree oil to my natural oil mix and a few drops to my shampoo.
Again, minimal results.
Here's What Worked
Finally, I tried the same tea tree oil/natural oil mix on my hair BEFORE I shampooed.  I massaged it into my scalp and left it on for an hour before shampooing my hair.
That did the trick!  I've been doing this for a month now and by wash day, I have some flakes but nearly as bad as before.
So here's my easy recipe in case you want to try the same…
1) 1-2 ounces of your favorite natural oil(s).  I use jojoba oil because it closely matches the sebum that our hair naturally secretes.

2) 1-3 drops of pure tea tree oil PER ounce of oil used
Shake/mix well and add to your scalp.  I use an applicator bottle because the small tip makes it easier to distribute.  Massage it in.  Then let it sit for at least an hour before you shampoo.
Sometimes I use this same mixture to re-moisturize my scalp 2-3 days after I shampoo.  A little seems to go along way.
Hot Oil Treatments Help Too
Another dry scalp remedy I've found is using hot oil treatments regularly.  At the time I'm writing this, I have been doing these weekly for the past few weeks.
Not only has the treatment softened up my hair, but it keeps my scalp moisturized.
I also add a drop or two of tea tree oil to my mixture since it's so good for dry scalp.
Update: February, 2013
I have been doing hot oil treatments for the last 6 weeks without fail and this seemed to REALLY improve my dry scalp condition.  I am currently 11 days post shampoo and barely have a single flake.
This is the first time I've ever done a hot oil treatment so consistently, and it appears to have a very positive effect on my scalp.
Learn more about making your own hot oil treatment here.
Hope this also works for you!