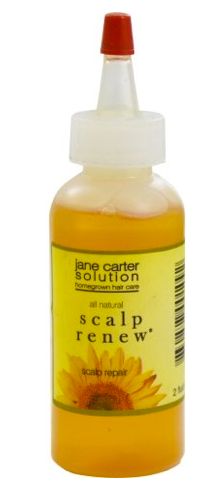 OK, so I wasn't one of the lucky ones who got rid of my dry scalp problems completely by going natural.  And of course, cold weather doesn't help.
While spending last Christmas in cold St. Louis and exposing my scalp to some very hard water (the perfect storm for dryness), I picked up a bottle of Jane Carter Solution's Scalp Renew (all natural) to see how it would work.
In a nutshell, I loved it.   It significantly minimized flaking — especially at my hairline, which is my problem area.
Here's How to Apply It
1) Before shampooing, section your hair into 4-6 sections.
2) Taking one section at a time, mist/spray your scalp with water.  (Water helps the product penetrate.)
3) Apply some of the Jane Carter Scalp Renew to each section of your scalp and massage, massage, massage!
Ahhhhhhhh, you will feel that tea tree and peppermint oil go to work on your scalp.
4) Let the product sit for at least 20 minutes and then shampoo your hair like normal.  (I usually let it sit for an hour.)
Not only does this product help prevent future dryness, but it exfoliates the dead skin on your scalp.
Is it Really Dry Scalp/Dandruff?
A lot of people mistake dry scalp or dandruff with product build up.   I sure did. Sometimes certain natural hair products don't "play well" together and can leave residue/flakes on your hair and scalp.
If you want to see if it's dandruff or product residue, try shampooing your hair with a clarifying shampoo (I use Come Clean by Kinky Curly) to make sure your hair and scalp are super clean.
You can also do a final rinse (after your shampoo) with a 50/50 mixture of organic apple cider vinegar and water.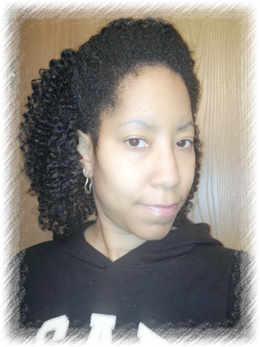 How to Eliminate Flakes From Product Build-Up
When styling your hair, minimize the number of products you use.  For example, instead of using a leave-in and twisting gel (which often causes build-up), use one product that acts as both a leave-in conditioner and styling product like Shea Moisture Coconut Hibiscus Curl Enhancing Smoothie.
Or sometimes I'll just do a twist out on damp hair (water is for moisture) and any rich, nourishing hair butter (to lock in moisture) like I did in the pic.
My flakes are very, very minimal with this combo and any that I do get are from my naturally dry scalp — not the product.
As much as I like to use creamy, leave-in conditioners, they don't often mix well with other styling products.  That's another good reason to use a family of products instead of mixing and matching labels.
So try the "product test" to see if you notice a difference in the amount of flaking when you use fewer products. You may find that your flaking disappears altogether by using the "right" products for your hair.
Another way to see if products play well together is to mix them in your hand.  If they clump together or change color, it means they may not mix well on your hair and leave residue.
I got that tip from one of the Napturally Curly forum members. (By the way, have you joined our fun, online family yet?)
If nothing seems to work for your flaking, you may want to take a trip to your doc.  It could be psoriasis or other scalp conditions. And don't forget to drink more water during the winter.  That will also help keep your scalp more hydrated.