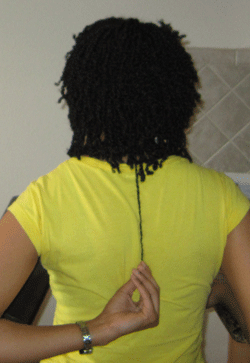 My hair is officially longer than it's ever been in my life, so I thought I'd share this photo with you.
As far as trimming goes, I dust my ends every 3-4 months (snip about a quarter of an inch).
While I'll admit, I've slacked off on my deep conditioning routine, I always use massive amounts of conditioner when I shampoo my hair.
It starts with my pre-poo routine (explained here) and then I use ample amounts during and after shampooing to help detangle.  This prevents a lot of  breakage because my hair stays detangled and moisturized at all times.
I've also found that the cheap conditioners like Suave Naturals or VO5 works just fine — especially ones that say "moisturizing."  I only splurge on my leave-in conditioners.
Speaking of those, I follow up every shampoo with a leave in afterwards (either Shea Moisture Organic Coconut & Hibiscus Conditioning Milk or Oyin's Honey Hemp).
I hope this inspires those of you who are still transitioning to hang in there and naturals as well.