Do a Google search for "products that grow natural hair" and you'll be inundated with recommendations for various lotions and potions that will leave you wondering…
"Hmmm… which one should I buy?"
Are you still searching for a miracle hair growth solution inside a plastic bottle?
What if I told you that the BEST solutions for growing long, natural hair aren't going to cost you much at all?
Don't get me wrong. There are products out there like Jamaican Black Castor Oil that work really well and encourage thickening. Seriously, this stuff is amazing for thinning hair!
But in general, hair growth is less about the products you slap on your scalp and more about your day-to-day lifestyle and hair management habits.
But… My Hair Doesn't Grow!
Lies!
So many of you have convinced yourself of this.
Of course your hair grows. If that were the case, you wouldn't have needed to touch up your relaxer back in the day.
Here's the skinny…
Kinkier hair types require more tender lovin' care than less kinky hair because moisture does not travel down the shaft as easily. Therefore you hair might be prone to breakage.
Everyone's hair grows. Your ends are just breaking off and you're not retaining any length.
Why?
I guarantee it's due to one or more of following reasons…
You Are Chronically Dehydrated
No doubt you've seen a plant or two in dire need of water. The dirt dries out, the leaves get limp and break off.
Dehydration affects your hair in a very similar way. It may be more subtle than plants, but it has the same effect.
When you don't drink enough water (at least half of your body weight in ounces), your scalp gets dry, your hair gets brittle and will start to break.
The reason I wrote "chronically dehydrated" is we tend to believe that if we aren't thirsty, we are hydrated.
More lies.
Our bodies learn to adapt to how much we mistreat them over time. So our thirst indicators die off as we get older.
As I learned from reading Water: For Health, For Healing For Life, most people are chronically dehydrated and have adapted to it.
For years, I never got thirsty and even bragged about it. But once I started drinking at least 65 ounces per day, my body craved water and my thirst indicators started working again.
Just trust me on this one. Drink at least half your body weight in ounces, and your hair will thank you.
Your Diet is Awful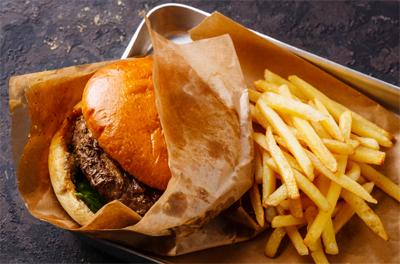 We tend to judge our diets by a 3-digit number on a scale.
But what about your hair?
Your hair, skin and nails can reveal a lot about what's going on inside your body.
Brittle hair could mean that you are lacking nutrition.
So before you reach for that magic hair potion, try subbing out greasy, fatty foods for more fresh fruits and vegetables.
Your Protective Styles Aren't Really Protecting Much
If you've been wearing extensions for months on end, and haven't given your hair a break and/or don't moisturize regularly, then your protective styles can stop protecting.
Even when your hair is bound up in extensions, it still needs moisture and TLC.
Not to mention, wearing extensions that are too tight will cause thinning — especially around the edges. (Learn how to grow them back.)
If you love wearing extensions, either find someone who does looser installs, or go to "YouTube University" and learn to do them yourself.
Chile, if I can learn, anyone can! 🙂
Also, you can make your own moisturizer. Here's my recipe. It's cheaper than buying something laced with chemicals and pore-clogging ingredients.
Mist your hair every 2-3 days. If you're worried about fly-aways and fuzziness, wrap your hair tightly in a satin scarf after misting it.
You Don't Properly Moisturize Your Hair
Coating your hair with olive oil is not moisturizing your hair. You'll just end up with dry hair that has an oily coating.
No bueno. 🙁
Oils are made for sealing in moisture and should be used after your moisturizer.
By the way, if the product does not have water as the 1st or 2nd ingredient, it's not a true moisturizer.
I have low porosity hair (take the test) so my hair loves butters. I've found that the best moisture routine for me is simply water and any natural butter.
I section off and mist my hair with water, coat my fingertips with a butter of my choice and twist away. (I love Jane Carter's Nourish and Shine.)
A little goes a long way, and I end up with a soft, supple twist out.
You're Ignoring Those Raggedy Ends
I get so tired of people saying that you don't need to trim natural hair.
LIES. THEY. TELL.
It depends on your texture and how you wear your hair. Don't use someone else's hair routine as a benchmark for your own.
If you manipulate your hair a lot or wear it out in twist outs and fros, then you might need to trim more than someone else who wears their hair pinned up most of the time.
It's very easy to tell when your ends need trimming. Just twist your tresses in medium twists and if you see knots or fly-aways at the end, trim them off.
The longer you let those raggedy ends hang there, the more harm they'll do in the long run. Get rid of them before that damage travels upward.
You'll NEVER retain length if your ends are raggedy.
Remember, everyone's hair grows. Yes, that means yours too! The key is getting length retention.
You can improve this by taking care of your body, trimming when needed and moisturizing your tresses regularly.
Don't get so caught up in hair growth tonic hype. Your day-to-day habits matter much more.