Is your hair always parched?
The number one problem people comment about on this blog is dryness and retaining moisture.  There are obvious reasons like too much heat and not moisturizing enough, but here are some less obvious reasons.
1) Hair Porosity
Got time for a quick science experiment?  It's easy.  Promise. See how to test your strand's porosity.
Whether it's high or low, both can result in thirsty tresses if you don't know what kind of products to use.
Low porosity hair doesn't allow moisture to get in.  (The Sign: You see beads of water on top of your hair after washing.) High porosity hair allows too much moisture in (frizz is a major issue) and then moisture escapes quickly.
The goal is to get the right amount of moisture in and not have it escape too quickly.
Read more about porosity and recommended products for your hair type.
2) Your Hair is Over Moisturized
Yes.  You can have too much of a good thing — even moisture.  How can you tell?  Your hair may feel limp, gummy or it suddenly becomes too porous and you no longer retain moisture.
3) You're Only Using Sealants and No Moisture
Remember, moisturizers always have water as one of the first two ingredients.  So if you're only using butters and oils then you are not really moisturizing your hair.
When I use butters, I always dampen/spritz my hair first (water = moisture) and then use the butters to seal it in.
This combo makes for such a luscious twist out and my hair stays soft and moisturized for several days.
I do like gel-like twisting potions with strong hold because the twist outs last FOREVER!  The downside is my hair often feels super dry after a few days — not to mention flakes like to come out and play.
No bueno!
My Tip for a More Soft and Luscious Twist Out
(Transitioners, you can do this too.  Just use tiny perm rods to curl the ends!)
So I've been twisting with damp hair/water then I use more rich sealants like Jane Carter Nourish and Shine and Afro Veda's Shea Amla Whipped Butter to lock in the moisture.
Why 2 Sealants?
You don't necessarily need two, but both products have their roles…
The JCNS is a great, lightweight sealant that holds water (moisture) in very well. I also love the mango smell.  It's easy to smooth into the hair when it's damp.
The Whipped Butter gives my twist outs a slight hold, but without the crunch that some gels have.  I wish I knew what the "holding" ingredients are in this product, but it's hard to know. I apply the JCNS first, by the way.
The good news is, a little of both products go a long way.  You don't want to reenact the "Coming to America" greasy-spot-on-the-couch couch scene. 😀  I also don't have any build up (as long as I smooth everything in and don't use too much product.)
A couple of quick finger dabs is all you need.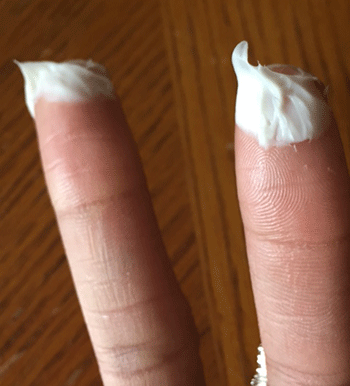 The con of using creamier products (instead of gels) for twist outs is that you won't get a lasting style (you may have to re-twist on night 2 or 3), but your hair will feel soooooooo incredibly soft!  Again, the Afro Veda does have a slight hold.
4) You're Using Humectants in the Wrong Situations
Honey (my favorite humectant) works so well on natural hair in the summer because it pulls moisture out of the air and into your hair.
However, if you have high porosity hair, you may notice that humectants attract too much moisture.  Your hair swells, frizzes easily and quickly dries out again.
In colder weather, humectants can actually dry your hair out by removing moisture from the cortex of your hair.
Now that you know how they work, check those labels and look for the following humectants…
Glycerin
Castor Oil
Fructose
Glycerin
Sorbitol
Hydrolized Silk Protein
Sorbitol
Panthenol
NOTE: If there are minimal amounts of humectants in the product then you may not notice a difference.  But if you're using a honey-based leave-in or moisturizer in 20 degree weather, the effect will be more noticeable.
A Reality Check
Is your hair dry or are you just not used to how your natural hair is supposed to look and feel?  Remember, natural hair is more coarse and has bends and turns.  It does not reflect light in the same way as relaxed/straight hair.
Natural hair has more of a sheen when properly moisturized, so it's important to know the difference. Otherwise you'll be trying to fix something that isn't broken. 🙂
Properly moisturized hair should feel soft, somewhat elastic and not limp or greasy.  Finally, it will have a sheen (or a shine if your hair is less kinky and more curly).
A Big Thank You!
I just wanted to say thanks to those who have supported my natural hair shirts on Spreadshirt.  Sales have exceeded expectations since I launched the new store last Summer and I've done very little promotion (just pictures on this blog and forum).
I now have over 110 designs (many I've designed myself), and will be creating even more.
Some of you have even created your own free Spreadshirt shops to sell my designs and are making passive income by sharing your stores on social media.
That was an unexpected surprise. Thank you, thank you!
If you have any suggestions for the kinds of designs or sayings you'd like to see just let me know! I appreciate your support. 🙂