I used to be so concerned about achieving curl definition when I first became natural.  But now I often let my strands do what they want to do.
So I found it a tad bit amusing when I received the most defined curls without even trying.
The Setup
The puff has been my go-to style for the last couple of months out of sheer laziness.  It's quick, easy and a great style if you work out because it keeps your hair off your face and neck.
So I prepared my puff as usual…
1) Shampooed and conditioned my hair (I didn't deep condition.)
2) Twisted with medium-to-large sized twists with Miss Jessie's Stretch Silkening Cream on wet hair (took about 40 minutes)
3) Took the twists down the next day and wore a twist out.
4) On day 3 of the twist out, I misted my hair with water and applied the old school Shea Moisture Leave in Conditioner (I seriously hope they don't discontinue this!)
Instantly my curls began clumping together like crazy.  (Mind you, I was only adding the water and product for moisture — not curl definition.)
5) I pulled my hair into a puff with a Goody band
Here is my hair on day 5 of the puff…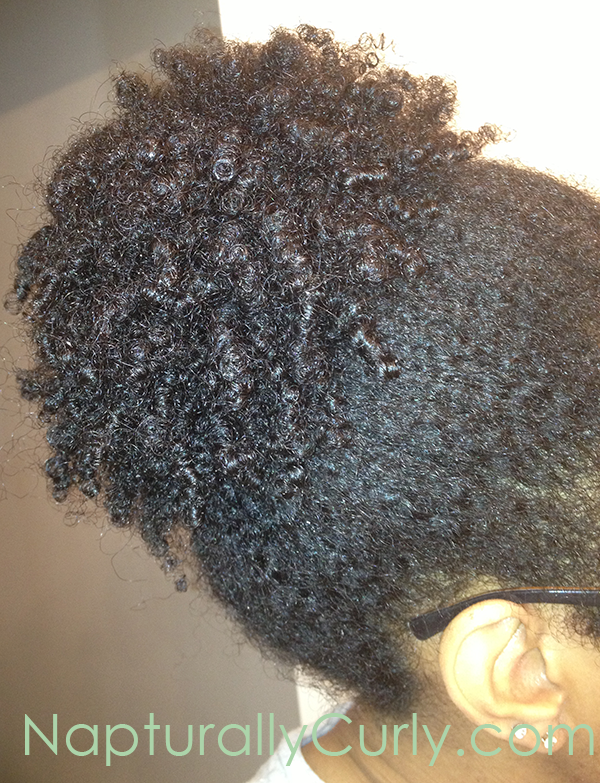 For the record,  I took this pic fresh out of bed.  The only thing I did was finger pick my curls because my hair was matted after sleeping.  It is is still incredibly moisturized and I don't think I'll need to apply any product today.
Maintenance
The upkeep on this style is ridiculously easy.  I shower with no cap (for moisture), sleep in a satin scarf or bonnet and re-apply the shea moisture in the morning.
Then I pick out the curls with my fingers and go!