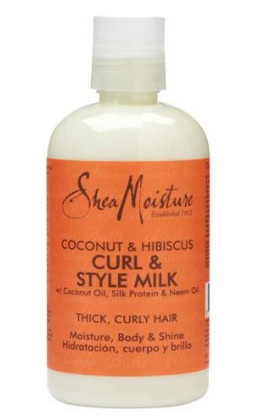 Don't you just love accidental hairstyles that work?
I wasn't even planning on doing a twist out.  My biggest concern was how this cold weather and hard water had been drying my hair out.
Whoo, chile!
So I was simply trying to get some moisture back into my hair, and twisting it up in medium to large twists is always a good way for me to ensure my entire head gets moisturized.
So I lightly sprayed/misted my hair with water and made 13 chunky twists with Shea Moisture Coconut & Hibiscus Curl & Style Milk….
I wore the twists for two days (made great use of my beanies when I went out) and took them down after 48 hours…
Because Shea Moisture is a moisturizer (water based) not a twisting product, I bet you can imagine this didn't last long.
So needless to say, I wouldn't recommend this if you need a lasting style.  But if you just need quick, moisturized one or two-day hair then this is a decent option. 🙂