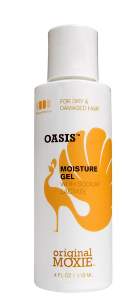 Why oh why does my hair have such expensive taste? 😉 First Miss Jessie's, now Original Moxie (sigh).
I first learned about their Oasis Moisture Gel ($22 for 8 oz.) from a video by CharyJay on YouTube.   Her twists always look so luscious and I was instantly sold when she reviewed this product last year.
Don't let the word "gel" fool you, though.  It's not sticky and doesn't harden/flake like many gels. It's actually very moisturizing and leaves my twists feeling super soft.  Also, a little goes a long way so I'm still on the same bottle I purchased last year.
Here are the ingredients in case you're interested:  Distilled Water, Vegetable Glycerin, Organic Aloe Vera, Sodium PCA, Cellulose, Panthenol, Phenozyelthonal, Glycol, Essential Oils and Violet Leaf.
So here's a flat twist style I did using Original Moxie's Oasis Moisture Gel, and below the video, you can see my big-hair twist out after I took the flat twists down. 🙂
Can't see the video via email?  View it here.
And here's the full twist out a week later after I removed the flat twists…
So I wore my big hair for a whopping total of one day. This is not exactly an exercise-friendly hairstyle, so you can imagine how it looked after a 30 minute workout. 🙂
Nevertheless, I enjoyed rockin' my big hair for one day.