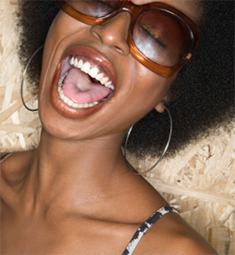 Big shout out to Sandberry on the NC forums for introducing me to this YouTube channel.
It's hosted by Natasha (Mane Moves TV) and Yardley (The Coil Review).  The goal of the series is to help both transitioners and naturals overcome hairstyling challenges.
Both ladies exude confidence and charisma while hosting the show and rocking their fly, natural hairstyles.
In their premiere series, you'll meet Aisha.
Fresh off her last relaxer (literally, it's been days) but she's ready to begin her natural hair journey.  Like many new transitioners, she's concerned about finding appropriate hairstyles for work.
Can you relate?
Watch as Yardley and Natasha dole out sound advice on self confidence while transitioning, and you'll get to peep Aisha's new transitioning style.
And don't forget to check out three-year transitioner, Demica who's on a quest for the perfect twist out after a few failed attempts.
If you can't view the video above, watch it on the blog and don't forget to subscribe to Make Me a Naturalista on YouTube!