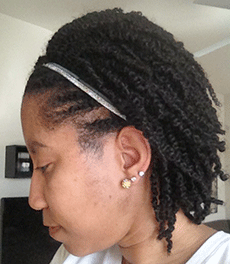 I have a love/hate relationship with AfroVeda.
They have great, great products, but they hiked up their prices by 80-90% a few years ago and I only buy them when they are on sale.
So when a forum member (Hey necey!) alerted me to a sale a few months ago, I grabbed a jar of their Shea Amla Whipped Butter (Hair Butter Cream).
I used it on my two-strand twists and it's too bad the picture doesn't convey how soft my hair feels right now.
It is literally like butt-ah!
Shout Out to KeKe
I first learned about this company through one of my favorite two-strand twist queens on YouTube. Her username is keke52284.  Unfortunately she no longer does videos, but thankfully she left behind plenty of inspiration.
I remember admiring her two-strand twists when I was transitioning.  I couldn't wait to be fully natural so I could have a luscious head of twists like her.
She was a loyal fan of the AfroVeda line until the price increase.
No Flakes and Great Hold!
If you saw my most recent YouTube video, you know I've been struggling with product build-up.  Many of the twisting gel products have hold to help the twists lasts, but that gel is what can cause flaking.
What I like about the Shea Amla Whipped Butter is that it does give you hold (without crunch) even though it's a butter instead of a gel.  And after scanning the ingredients, I wasn't quite sure which one actually helps with hold, but I like that this product is loaded with lots of leaf extracts, natural oils and herbs.
And if you are one of those who shakes your head at the "naughty ingredients", it has no mineral oil, parabens or sulfates.
The label also states this product is good for hair that is dry, frizzy and prone to split ends.
Any Negatives?
Unfortunately there is one major drawback…
The smell. 🙁
Perhaps I'll try adding a few drops of an essential oil next time to see if that helps.
Fortunately it goes away (for the most part) when the product dries.
The Verdict
Overall, I would use this product again and continue to buy — when it's on sale, of course.  😉
I also like that it seems to stretch my hair a bit.  I suppose that's due to the thickness and weight. There's nothing wimpy about this butter at all.  It's super rich, and as I already mentioned, I was pleasantly surprised with the added hold without the flaking.
So if you can put up with the strong smell for a few hours, you'll probably love this product too.
Now if I can just figure out what they use to make it hold the hair so well,  I can make my own concoction at home.