Why oh why did it take me so long to listen to my forum members?
Flaxseed gel is indeed amazing and it costs a fraction of what I've been paying for other twisting gels and creams.
Based on the amount of seeds I used, the batch I made costs me about .50 cents to make AND I had some left over.
Not to mention, it's all natural.
I first heard about flaxseed gel through Naptural85 but when I saw her straining that concoction through pantyhose and using tongs to squeeze out the gel, I was turned off.   In the words of Sweet Brown…
Ain't nobody got time for that!  🙂
The Recipe
Well, after discovering I could use a strainer instead, I decided to give it whirl.  The recipe is super simple:
1/4 cup of whole (red or gold) flaxseeds (buy at health food stores or Amazon). One pack will last you a long time.
2 cups of water
Add essential oils or aloe vera gel for added benefits (optional)  I used a couple of drops of Rosemary.
For the record, if your want your mixture to be a little thicker, use less water or more seeds.  Keep in mind this recipe makes a LOT — even for my hair.  So you may want to half it if your hair is shorter.
I was able to store the remaining gel in the refrigerator and it did last for 3 weeks.  Adding essential oils will help preserve the product.
You can watch me create the gel in the video below. (Email subscribers: Click here if you cannot view it.)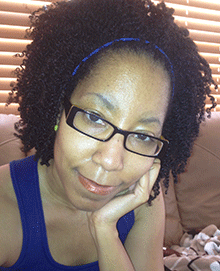 What I love most about this gel is that it doesn't flake and it has great hold.  I was able to leave my twists in for 2+ weeks and the twist out was very full.
I could also see using this for a wash and go because it defines curls so well.
Looks like I have a new twisting staple!  Flaxseed gel + natural hair is definitely a winner!