Since I was able to successfully complete my long-term (18-month) transition without doing a big chop, I thought I'd create a page with some tips for those who aspire to do the same…
1. Start With a Good Trim
This means you need to get rid of all those dead, thin and split ends.  The longer you transition, the more brittle they will become so you might as well let them go now because they will break anyway.
I got rid of a good 3-4 inches when I began my transition because my hair was very damaged when I started.
2. Give Up All Direct Heat (Flat Irons, Blow Dryers, etc.)
I know this is hard for a lot of you to read, but I think having a "no heat policy" was the reason my hair stayed so healthy throughout my 18-month transition.
Of course I had some breakage — that is to be expected, but flat ironing and blow drying would have made the problem worse.
The only heat I used was indirect heat from the hooded dryer and that was only for 20 minutes.  Most of the time I let my hair air dry.
Almost all relaxed hair has some degree of heat damage, even if it's subtle.  So why continue to damage your ends if you know that you are going to keep them for as long as possible while you transition?
Not to mention, you run the risk of damaging your natural hair, and this is the hair you plan to keep.  You certainly don't want to fry it.
Wear your hair in rod sets, twists, buns, extensions, bantu knots and other styles that don't require heat.
Now, the occasional exposure to heat is not going to do much damage if you take care of your hair during the process.  Read this article on straightening natural or transitioning hair.
3. Trim Your Hair Regularly
I trimmed my hair at least once a month, sometimes twice.  My ends kept splitting because my hair was really fried and brittle from relaxers and flat irons.
Sometimes I would just dust my ends — which means you take off less than a quarter of an inch.  The healthier your ends are, the easier it will be to complete your long-term transition.
Remember, you're going to have some breakage — it's inevitable.  But trimming keeps it from getting out of control.
Tip:  Always use hair-cutting scissors.  Paper-cutting or dull scissors can cause split ends.
4. Pre Poo Before Shampooing
As you get further into the transition, your ends will get weaker.  You'll probably notice more and more breakage when you shampoo your hair.
Remember, the demarcation line (where your natural and relaxed hair meet) is extremely fragile so you want to always strengthen your hair as much as possible.
Pre-pooing is the process of moisturizing your hair before you shampoo.  This strengthens your hair and helps prevent breakage.
I usually pre-poo with a cheap rinse-out conditioner and olive oil.  The conditioner not only helps strengthen your hair, but it works through any tangles before you shampoo.
I shampoo my hair in sections so I apply the pre-poo to each section and let it sit for at least an hour.  Before I get in the shower, I gently detangle each section with my fingers and remove any shed hairs.
5. Shampoo in Sections
This process is more time consuming but it saved me a lot of breakage.  As you get into your 3rd or 4th month of the transition, your new growth will begin to make detangling more difficult.
Keeping your hair in sections as you pre-poo, shampoo and condition will save you a lot of breakage and shedding.
Note: Always use NO SULFATE shampoos so your hair won't dry out.  Giovanni products and Kinky Curly's Come Clean (buy at Whole Foods or Amazon) were my faves.
Watch my video that shows how I shampoo my transitioning hair.
6. Deep Condition Every Single Week!
Deep conditioning is what keeps your relaxed hair and new growth healthy as you transition.  It also helps you retain moisture (especially during those winter months).
Be sure to distribute the product from root to end.  Sometimes we neglect our ends when applying product to our hair, but this is a critical step for long-term transitioners.
I use Organics Olive Oil Replenisher.  I put a generous amount on after shampooing then placed a plastic cap on with a very warm wash cloth underneath.
I prefer to do this instead of sitting under the dryer.  The warm cloth provides the heat to deep condition your hair.
7. Detangle With Lots of Conditioner
Some people prefer to detangle in the shower with a rinse out conditioner. It's up to you.  During and after my transition, I detangle after showering while my hair is soaking wet.
I apply a very generous amount of conditioner to each section and let it sit for a few minutes before gently working my wide-tooth comb through my hair.  (Oyin Handmade's Honey Hemp is one of my favorite detanglers and leave-in conditioners.)
As your hair gets longer, you may want to divide your hair into more, smaller sections when you detangle.  I started with four, but use six now.
Read more detangling tips here.
8. Learn to Flat Twist!!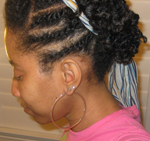 I realize not everyone likes flat twists.  Some people think they look too juvenile or not appropriate for the workplace.
Being self-employed definitely had its advantages while transitioning!
Well, if you like them and feel you can get away with wearing them, I would highly recommend learning how to flat twist or have someone do them for you.
The reason I liked flat twists while transitioning is they are loose enough so they don't put any strain on your hair like extensions, and they are much easier to do than corn rows.
When I got to my 10th month, I had so much new growth so flat twist styles really helped me blend my textures.  I wore many different styles in the 2nd half of my transition for this very reason.
I learned how to flat twist by watching YouTube videos.  It takes time to perfect it, but the more you practice, the better you'll get.
You also have to discover the best finger/hand position for you.  There are many different ways of twisting and not everyone can do them the same way.
See some of my flat twist styles that I wore while transitioning.
9. Buy Lots of Headbands
Headbands are great because they cover a multitude of sins… especially the large ones. 🙂  If your rod set or twists get old, you can jazz up your hair with a colorful headband.  I have a drawer full of them!
You can buy them almost anywhere these days… Walgreens, Target, CVS, the beauty supply store, etc.
They are also good for making puffs.  Puffs are a great style for old hairstyles that need new life.  See my first transitioning puff.
10. Moisturize, Moisturize!
Keeping your hair moisturized is key because dry hair will certainly lead to breakage and tempt you to end your transition.
I kept it simple when it came to moisturizing my hair.  In the beginning I bought all kinds of products, but I found that moisturizers like Shea Moisture work just fine.  If your hair is thick, try to find products with a thick, creamy consistency and make sure one of the first ingredients is water.  Remember water = moisture.
Then seal in the moisture with a natural oil.  I use castor oil and it's pretty thick so no need to use it everyday.   I usually use it every 2 or 3 days and that kept my hair pretty moisturized.
Another way to combat extreme dryness is before bed, take a spray bottle with water and mist a small amount into the air over your head.
Don't soak your hair, just lightly mist it as if you've been out in the humidity.  Your hair should feel slightly damp.
Now put on a plastic cap before going to bed.  In the morning, your hair will feel very moisturized.
Does this cause frizziness?  It may, depending on how you're wearing your hair.  But if you're wearing twists or have your hair in an up do or puff, this is a wonderful way to re-moisturize your hair.
Read more tips on moisturizing your transitioning hair.
Check Out My Transitioning Shopping Guide
Not sure what hair products and tools you need? Here is a list of products you may want to consider buying as you transition.
Thinking of Doing The Big Chop?
If you are considering chopping the rest of your relaxer off instead of transitioning all the way, I wrote an article so you will know what to expect. My hope is that it will ease any fears you have and answer common questions.
I'll give you suggestions for products, trimming, breakage, moisturizing and more.  See After The Big Chop — Now What?
Consider a Transitioning Kit
Several companies have transitioning kits.  You may want to give them a try if you're having trouble with manageability, breakage, dryness, etc.  I never used one because they weren't out when I transitioned, but I sure wish they had been.
Read more about the products I used while transitioning.
Also see the hairstyles I wore during my transition.
Check out answers to common questions people ask me about transitioning.