Don't make the same mistake I did and feel like you have to buy every product on the market.
I am a self-proclaimed product junkie. I have always been. If they have a support group for such a thing, just sign me up!
Nevertheless, I quickly discovered you don't really need a lot of hair products while you transition. Yes, it may take some time and money to discover what works best for your hair, but all you really need is…
1) A couple of sulfate-free shampoos (The reason I say "a couple" is your hair may become immune to using the same products over time, so it's good to have at least two so you can alternate.)
2) A good moisturizing leave-in and deep conditioner
3) Natural moisturizers and sealants
Sulfate-Free Shampoos
Sulfate-free shampoos are a must. Sulfates strip your hair of moisture, and that's the last thing you want when transitioning. Natural hair dries out a lot more than relaxed hair so you don't need any help with sulfate-laced shampoos.
At first, I used the Giovanni product line then moved to Kinky Curly's Come Clean shampoo. I started noticing that the Come Clean shampoo made my hair feel a little hard/stiff after washing. So I went back to the Giovanni line.
At the very end of my transition I realized the reason Kinky Curly made my hair hard was because I was using too much.   Now that I've learned, I use it quite often.  So I switched back and forth between Giovanni and Kinky Curly.
I buy them both at Whole Foods or Amazon.com
.
Conditioners
My favorite leave-in conditioners are Knot Today by Kinky Curly (buy @ Whole Foods or Target) and Oyin Handmade's Honey Hemp.  You can actually use both of these as a rinse-out or leave-in.
Knot today is a bit pricey, but it gives my hair an incredible shine and it's a great detangler.  Oyin Handmade is a lighter conditioner that can be used as a rinse-out or leave-in.  I like to add a teaspoon or so to my spray bottle of water.  I mist my hair with this mix when styling my wet hair.
I also like the Herbal Essence line.  I use Hello Hydration and Totally Twisted conditioners. They are very economical (especially compared to Kinky Curly) and you can find them at almost any drugstore or Amazon.com
. I like to use their products to pre-poo my hair (along with olive oil).
Pre-pooing is the process of applying moisture to your hair before you shampoo. This helps keep your hair soft, shiny and moisturized.  Pre-pooing also prevents breakage by improving your hair's elasticity.
I also like the Giovanni line
. They have several conditioners and all of them have worked well for me.
Deep Conditioning
You don't have to spend a lot of money on deep conditioning.  My favorite is Organics Olive Oil Replenisher.  You can buy this at almost any beauty supply store.
Also try to look for deep conditioners that say "moisturizing."  And if you have thick, coarse hair you'll want a thicker conditioner to penetrate your strands.
To deep condition, just apply a generous amount to your hair while wet and work it through. Some people like to comb it through with a wide-tooth comb.  I just section my hair into 4 parts and work it in with my fingers.
Next, cover your hair with a plastic cap and sit under a warm dryer for 20-45 minutes. Rinse well with cold water.  Cold water seals the cuticle and helps promote shine.
No dryer?  No problem!  Just rinse a wash cloth in water as warm as you can stand it and place it inside a plastic cap and place on your head.  Leave on for at least 30 minutes and let the steam created from the wash cloth and plastic cap condition your hair.
Moisturizers and Sealants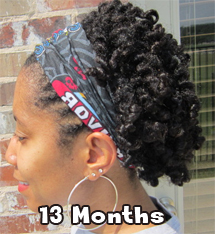 The words moisturizers and sealants are thrown around a lot in the natural hair community.  A moisturizer is a water-based product (so the first ingredient listed should be water).
That means a leave-in conditioner could be a good moisturizer for your hair, depending on the ingredients.
A sealant should be applied after your moisturizer and will help lock in the moisture from your leave-in.  Natural oils like castor, olive, jojoba, coconut, shea butter etc. make great sealants.
My hair absolutely loves castor oil.   I like to dab my fingertips in the oil and lightly apply it to my strands — especially after removing rods or taking down two-strand twists.  A little goes a long way.  Jane Carter's Nourish and Shine is also a great sealant.
Bonus!
This post wouldn't be complete without giving a shout out to Aloe Vera gel. Who knew our hair loved this so much?  This is a fabulous curl-definer.  I use it along with setting lotion when doing rod sets. It helps give my hair a great shine.
I used to use Lily of The Desert (all natural), but have switched to Fruit of the Earth.  It has a few preservatives, but I like the slight hold it gives.  It's great for rod sets and twist outs.
Keep it Simple
I am by no means recommending you buy all these products. You may not need to. Remember, I'm a product junkie so I like experimenting. As I said above, I don't use all these at once. They are all part of my product repertoire.
Even though this may seem like a lot of products, trust me, I've toned it down TREMENDOUSLY!
Quick Checklist…
1) Use as few products as you can between washings
2) Have at least 2 options from each category (Conditioners, Shampoos, Moisturizers)
3) Try to buy as many natural products as possible. Look for words like "100% Pure" on the labels and try to minimize the use of products that list mineral oil and ingredients that end in "CONE". (Not everyone's hair responds negatively to these ingredients, so do what works for you.)
Not all products recommended here are 100% natural (Herbal Essence, Giovanni, etc.) but the majority of them are.  All the oils I use are 100% natural.
Tip: If you don't have any of the stores I mentioned in this post, you can get most of these products at Amazon.com
(and probably a bit cheaper too!)
4) Consider buying a transitioning kit.  Not only does it help with manageability and combat dryness/brittleness, but it nourishes your scalp — which is often neglected during the transitioning phase.   A healthier scalp means healthier new growth!
How to Save $$ on Products
Going natural doesn't have to break the bank. Learn how to save big by creating your own moisturizers, shampoos, etc.
PLEASE READ:
I am often asked for product recommendations. I can only tell you what works for me. You have to experiment to figure out the best regimen/products for your hair. So please use my information as a guide and understand everyone's hair responds to products differently. 
Click here to chat with other transitioners about products
.