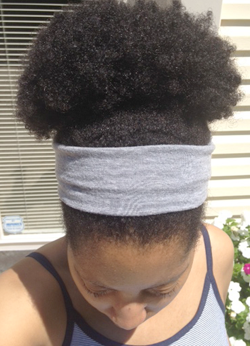 It's kind of ironic that we throw around the term wash and go when there's nothing really wash and go about it.
I'm sorry, but spending 3-4 hours shingling your hair with EcoStyler gel or Kinky Curly (like I did in this post) is not really a wash-and-go.  It's more like a wash-and-go-later.
Much later. 😉
So for the first time, I wanted to see what a for real wash and go was like.
No shingling.  No gels.  No mess.  All done in no time.
I'm talking about getting out of the shower, detangling and letting my hair do what it do as they say. 😉
Yesterday I did just that, and the picture on the right reveals the results.
My Simple Regimen
After I finished shampooing and conditioning (see my latest shampoo routine), I detangled my hair and quickly smoothed through some Miss Jessie's Curly Buttercreme to soften it up.
Update:  Now when I do this style, I co-wash (wash with conditioner only) because it makes my hair softer.
I wasn't concerned about getting the Buttercreme on every strand.  I quickly distributed throughout the sections of my hair by smoothing it through using the prayer method and no more than a couple of tablespoons of product in total.
I grabbed a Goody band, doubled it around my neck and pushed it up over my hair and formed a puff.  The next morning, I sprayed my hair with water (for moisture), added some Shea Moisture Leave-In and I was on my way.
Now THAT's a wash and go!
So carefree and easy with no worries about curl definition, humidity or rain.  [SIGH] Natural hair can be so mentally freeing.  I LOVE IT! 🙂
Another Wash and Go Style With Gel
Here's another style I tried later.  I shingled Eco Styler Olive Oil gel through my hair while it was soaking wet.
Even though we often call it a "wash and go", it was hardly that. It took me forever to distribute the product through my hair. The results were OK. I will just use less product next time.
See the video below…