Wearing different protective styles is one of the best ways to retain length and help your natural hair grow long.
When your hair is worn out, meaning your ends are exposed, it is more prone to breakage because…
Your hair exposed to the elements (extreme heat, cold, etc.)
Combing and manipulating causes wear and tear
Your ends can get snagged on your clothing
All these things can cause dryness and your ends to split or get weak, which ultimately results in breakage and prevents you from retaining and gaining length.
Protective Styles vs. Low-Manipulation Styles
The biggest difference between these two styles is protective styles keep the ends tucked away.  Low-manipulation styles may have the ends exposed but they don't require combing or lots of manipulation.
The picture below is an example of a protective style I wore when I was transitioning.
This isn't the best example because I have bangs and my ends are exposed in the front, but the majority of my ends are tucked away.  (Watch how I created this flat twist hairstyle.)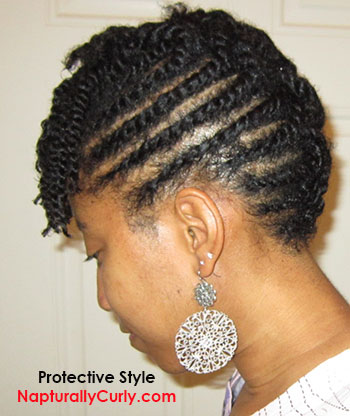 Another example of a protective style would be a bun with all your hair pulled back and tucked under.
So basically any hairstyle that has your ends tucked away is a protective hairstyle.
The next picture is a low-manipulation style.  I tend to wear more of these than protective styles simply due to preference.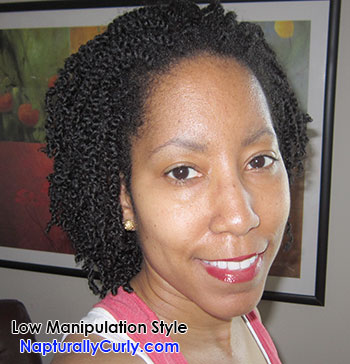 Hairstyles like twists, rod sets, coils, or any hairstyle that doesn't need to be combed or manipulated, but the ends are still exposed, would be a low-manipulation hairstyle.
Both of these kinds of hairstyles are great for retaining and gaining length with transitioning or natural hair, but protective styles are the best — especially during the winter.
So if you live in a climate that gets extremely cold, your best bet is to moisturize and seal your hair and wear as many protective styles as you can.