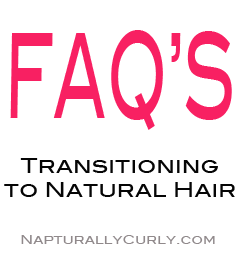 I decided to compile a page that answers many of the questions I am constantly asked…
How Long Does it Take to Transition?
That will vary due to your length and how long you want your hair to be when you cut off the remaining relaxed ends.
Hair grows 1/2″ per month on average.  So if you want 10 inches of natural hair before you chop off your ends, you'll need to transition for 20 months.
Also keep in mind that natural hair can shrink up to 50 to 80% of its length.  So 10 inches of natural hair is not the same as 10 inches of relaxed hair.
So you may choose to transition longer to get the desired hang length you want.
How Should I Wear My Hair While Transitioning?
Low manipulation styles like flat twists, bantu knot outs, pin-ups and any style that uses no heat and leaves your ends tucked away are great.
Protective styles where your ends are tucked away are even better.  Learn the difference between protective and low-manipulation styles here.
I always wore styles that didn't require combing and manipulation.  The less you manipulate your hair, the better.
Rod sets were my favorite.  It's a great transitioning hairstyle because you don't use heat (except for sitting under the dryer) and it blends your two textures well.
Check out this page for hairstyle ideas and tutorials.
Is it Safe to Transition With Braids/Extensions?
Yes.  Just don't get them done too tight and after you take them down, let your hair rest for a month or two.
While your hair is braided up, keep it moisturized by spraying it with water (yes, water is a natural moisturizer) and sealing it with natural oils and butters. (I love Jane Carter's Nourish and Shine.)
It also won't hurt to deep condition your hair as well.  It will keep your hair from being so dry when you take the braids/extensions down.
Here is a guide I wrote to managing your hair and protecting it while it's in extensions or braids.
What Are the Best Transitioning Products?
No one can tell you what products to use.   You have to experiment and see how your hair responds to different ingredients.  What works for someone else may react differently on your hair.
Try to experiment with products from the same line because they often work well together.
Just keep these things in mind…
Buy sulfate-free shampoos because sulfates dry your hair out (Giovanni's line is my favorite.)
Keep your hair moisturized (Shea Moisture is a great brand.  Get it at Walgreens or Target)
Deep condition weekly
Try a transitioning kit to strengthen and moisturize your hair
Look for product labels that say "moisturizing" and have water as one of the first ingredients
After you apply a moisturizer, add a natural oil on top to seal in the moisture
Can I Do a Twist Out/Braid Out on Transitioning Hair?
You sure can.  Just add perm rods to the end. Here's my tutorial on a two strand twist out.
How Do I Stop My Transitioning Hair From Shedding/Breaking?
First of all, make sure you identify if it's shedding or breakage.  Breakage is normal and happens when your hair snaps off at the point where your natural and relaxed hair meet.
And the longer you transition, the more breakage you will probably have.  So don't let it alarm you.
You may be able to minimize some of it by using a protein treatment (Aphogee has a great system) and I use a homemade treatment.  Also make sure you are deep conditioning your hair once a week and no less than every other week.
I also pre-poo my hair before shampooing.  That's the process of adding conditioner (I use the cheap ones) and/or oil to your hair to strengthen it before you shampoo it.
Be sure to keep your ends trimmed.  If they are split, that will accelerate the breakage.  Having healthy ends will not only minimize breakage, but will make your styles look more polished.
If your hair is shedding from the root, that may not necessarily be related to the transition so make sure you seek help from a professional to get more advice.
And finally, keep your hair moisturized.
How Can I Get My Styles to Last Longer?
Check out this article for tips on getting more mileage out of your hairstyles.
My Hair Feels So Dry.  How Do I Keep it Moisturized?
Dryness occurs for several reasons…
1) Some people have more dry natural textures than others.
2) It may be time for a deep conditioning treatment.
3) You may be suffering from product overload.  Clarify your hair once a month with a clarifying shampoo to thoroughly cleanse your hair.  You can normally find these at Whole Foods or a professional beauty supply store (Ulta, etc.)
Coating your hair with too many products can dry it out and even cause breakage.  Plus, you won't really know what's working and what's not.
4) Your hair is not properly moisturized.  Remember, moisturizers have water as one of the first ingredients.  Also, natural oils are not moisturizers.  They are sealants and should be applied after your moisturizer.
Read product labels and don't buy anything that contains mineral oil or petroleum/petrolatum.
Not everyone's hair responds poorly to mineral oil and other "bad ingredients", but mineral oil is often known as a "wanna-be moisturizer" because it doesn't penetrate the hair.  Your hair may feel moisturized at first, but dries out quickly.
Check labels on products before you buy.  You will be surprised how many companies use these ingredients.  They are cheap to produce and preserve well — that's why they are very popular.
My hair does not respond negatively to these ingredients, but if you are struggling with dryness, try eliminating them to see if you notice a difference.
And finally, apply the moisturizer while your hair is slightly damp.  It will penetrate better because water is moisture.  Then re-apply as needed.  Here are some great moisturizers…
Jane Carter Nourish and Shine
Shea Moisture Leave In Conditioner
Qhemet Biologics Amla and Olive Heavy Cream
Oyin Hair Dew
Read more about moisturizing transitioning hair.
5) Find out if you have high or low porosity hair because that will determine how your hair responds to products.
Here are some more tips so you can learn how to stop/prevent breakage.
How Can I Tell What My Texture Is Like?
You won't really get to see your true texture until your relaxed ends are completely gone.  First of all, your texture may change slightly as your hair becomes healthier.
Second, the relaxed ends weigh the hair down, so your hair may actually be curlier/kinkier when you chop them off.
Also, if your hair feels very course, you might have scab hair.  This is temporary and may go away 6-12 months after you stop relaxing.  It varies from person to person.
Be patient.  Your hair will continue to evolve as you go through the transition.
And finally, don't get caught up in trying to achieve someone else's texture.  More than likely, yours will probably be different.  Learn to embrace your own because you cannot change it.
Why Isn't My Hair Growing?
Remember that if your hair is very kinky, it will grow out and not down like relaxed hair. So it may seem like your hair is not growing when it is.  And if you are trimming your hair regularly, it may seem as if you are stuck at the same length.
Trust me.  Your hair is growing.  If you are indeed not gaining any length, it's because your hair is breaking off on the ends.
Read more about black hair growth here.
Can I Make My Hair Grow Faster?
Everyone has an optimal hair growth rate that is promoted by a healthy diet (fruits, lean meats and vegetables), exercise, a clean scalp and drinking lots of water.
However fast your hair grows when you are taking care of your body is your optimal growth rate, but nothing is going to speed up growth beyond that.
So if you are not eating healthy and exercising, yes, you can speed up growth to reach your optimal rate.  But don't be fooled by these products that promise miracle growth.
You will achieve your own optimal hair growth rate naturally by doing the things I mentioned above.
How Often Should I Trim My Hair?
Try to trim your hair every 6-8 weeks — especially if you have excess breakage.  Sometimes I trimmed my hair twice a month because it was in very bad shape.
Don't try to hang onto your ends for length.  It's only going to get worse as the breakage travels up the shaft, which will cause even more breakage.
How Do I Manage Tangles?
As your hair grows out, it will be more prone to tangling.  The best way to avoid too many tangles is to prevent them before they start.  Check out this article.
Still Have Questions?
I created an even more detailed page on what you need to know when you start transitioning.  You can post your questions below the post after you join the forum.