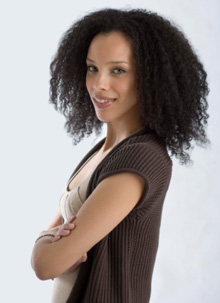 Do you ever find yourself having texture envy?
Maybe you saw someone on YouTube and you admired their hair type and wondered if there was any product out there that will loosen up your curls or make your hair more curly.
Unless your body has gone through some kind of hormonal change (puberty, pregnancy, cancer treatments, etc.), it's unlikely that your hair texture will change much.
Yes, puberty can change the texture of your hair. That's why many of you have commented that your hair seems different since you were natural as a child.
NOTE: Transitioners may experience scab hair, which is an example of when you're not seeing your true texture.  You may indeed notice that your hair becomes curlier as you transition and your hair gets healthier.  The hair around the nape of my neck used to be so dry and coarse, but after my scab hair grew out, it became the curliest, strongest part of my hair!
Moisture Levels Matter!
You will be surprised at how you can bring out your hair's natural curl pattern more when you keep your hair PROPERLY moisturized.
Many of us coat our hair with bad ingredients that suffocate and strip our hair of moisture over time, making it even more difficult to manage.
Then we complain that our hair is too nappy to be natural, or we start secretly wishing we had someone else's texture.
However, when your hair is properly moisturized, your hair will surprise you.  Check out the max hydration method and learn how to get your hair to reach its optimal moisture level.
Stretching is Possible
You can do some things that may slightly stretch your pattern. For example, I wear my hair in small, two strand twists a lot, and I've noticed that when I wash my hair, my curl pattern seems a lot looser.
That's because our hair does have some memory. If you wear your hair in a certain way all the time, natural hair will hold that pattern to an extent. Also, as your hair gets longer, it weighs more so your pattern will loosen up a bit from the weight that length brings.
Using heat on your hair often may also loosen your natural hair pattern (often called heat training).  Just be careful, too much heat can permanently straighten your hair.  Learn how to use heat properly.
However, don't expect any drastic or permanent changes in your hair's texture unless you chemically alter it.  You may experience subtle changes, but expecting to go from course, wiry hair to curly/shiny hair is unrealistic.
Acceptance is Key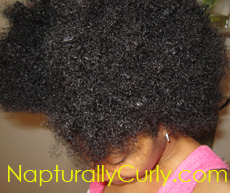 I hate to get all Oprah-esque on you, but being natural is really all about self acceptance. And if you don't ever get to a point where you accept what your hair will or won't do, then this journey will be tough.
Trust me, I can relate. When I first started transitioning, I was obsessed with watching certain people on YouTube who had looser curl patterns.
I used to think that if I just used the same products, I would achieve the same results.
But about four months into my transition, it was becoming clear to me what my hair was like and I knew I wasn't going to have those springy, shiny curls like the people I had been admiring.
Sure, I can get really defined curls with gel, certain products or while my hair was wet, but as soon as it dries, it goes back to its cottony state. Yes, that's my true hair texture in the picture above with no product.
The "No Product" Test
The thing to remember is whatever your hair looks like dry with no product is your true texture and how your hair wants to behave.
If you have curl/coil definition with no product then you have a hair pattern that naturally wants to curl or coil, and you will probably be able to wear curlier styles for longer periods with the right products.
But if your hair draws up and/or gets frizzy with no pattern, that's what your hair wants to do naturally.
Yes, you can add gels and conditioner to bring the curls out temporarily or define your natural pattern, but at the end of the day, your hair is going to revert and do what it does naturally — and for many of us that means no/minimal definition with more of an afro look.
I knew the quicker I accepted my own texture, the easier this journey would be.  Over time, I've learned to enjoy both the defined (see this twist out) and less defined looks (see my wash and go natural hairstyle) and you can too.
Let's embrace the diversity of our beautiful hair, ladies!
If you haven't discovered this yet, you will find that being natural is about much more than changing your hairstyle. It's about accepting your own hair pattern and not trying to achieve someone else's.
That's why I find the natural hair type chart to be misleading. It encourages texture envy.
Just keep your hair moisturized, try the maximum hydration method and learn to embrace what God gave you.