Are you transitioning?  See what products I used here.
Because I get so many questions about what products I use on my hair, I thought I'd create a more up-to-date page for you to reference.
I use many of the same products I used while transitioning, but there are a few changes.
Keep in mind that what works for ME may not work as well for you, as we all have different textures.
Shampoos
1) Kinky Curly Come Clean (Purchase @ Whole Foods or Target)
This is my favorite shampoo right now and I use it almost every time I wash my hair.
It's a very good clarifying shampoo, but does not strip my hair of its moisture like some brands can.  The key is to use a dime-size amount.  When I first started using it, my hair felt stripped because I was using too much.
Even though the bottle is only 8 oz. I can usually get at least 10 shampoos out of it.
2) Giovanni (Purchase at Walmart, Amazon, etc.)
This was my go-to brand while transitioning.  The Tea Tree Triple Treat is my favorite because the tea tree oil gives my scalp a nice fresh tingle.  It's great if you have dry scalp and/or suffer from dandruff/itchiness.
I actually use all their shampoos except the ones that say "thickening" or "volumizing."  Those are typically not for kinky hair.  Our hair comes with its own volume and thickness. 🙂
Rinse-Out Conditioners
1) Suave Naturals Ocean Breeze (Purchase at most drugstores.)
I use this with olive oil for my pre-poo (the process of moisturizing your hair to prevent stripping before shampooing).  It's very inexpensive and goes a long way.
2) Herbal Essence Hello Hydration and Totally Twisted (Sold at most drugstores.)
I use this line of conditioners for my pre-poo routine (coat and strengthen your hair with oil and conditioner before shampooing).  I always keep a handful of inexpensive moisturizing conditioners for pre-pooing and this is another one.
3) Giovanni Conditioners
I mostly use this when I'm finger detangling my hair in the shower while it's wet after shampooing.  The Tea Tree is probably my favorite (like the shampoo) because my scalp loves tea tree oil.
4) Aussie Moist (Sold at most drugstores or Amazon)
This is my newest favorite and I LOVE using this for co-washing (washing with conditioner only).  It really makes my curls pop….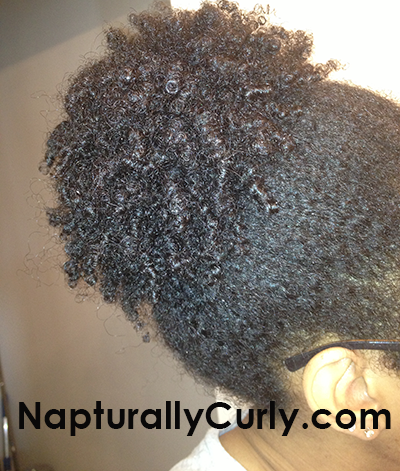 Puff after co-washing with Aussie Moist.
Here's a video showing my twist out after using this product…
Leave-In Conditioners
1) Oyin Handmade Honey Hemp (Purchase Online)
I've been using this since my transition.  I love it because it has honey in it, and honey is a great humectant — which means it attracts and locks in moisture.
I don't like using this product full strength because it tends to leave a residue on my hair when it dries.  I usually dilute it by adding a teaspoon or two to about 6 oz of water in a spray bottle.
This is a pretty decent detangler, but because I don't like to use this product full strength I rarely use it for that.
Be careful with using products containing honey in the winter months.  In the summertime honey draws moisture from the air and into your hair.  In the winter, it can have the opposite effect and dry your hair out.
2) Kinky Curly Knot Today (Purchase at Whole Foods or Target)
Knot Today can be used as a leave-in or a rinse out conditioner.  I typically use it as a leave-in because it's fabulous for detangling natural and transitioning hair.  The smell is also very marshmellowy, but not in an annoying way.  I really like this stuff!
3) The Great Detangler (Purchase at Target or any Beauty Supply)
This is probably one of the best detanglers I've found thus far.  It's really good for people who have thick hair.
Now that I detangle with my fingers in the shower with a conditioner, I rarely need a thick detangler like this anymore, but it's a nice product to have on hand.
Twisting Creams and Gels
1) Homemade Flaxseed Gel (Watch me make the gel here.)
I spend a LOT less on twisting products now because I discovered this cost-friendly, homemade recipe.  It's super simple to make and it takes all of 10 minutes.
This gel will give your hair shine and great hold.  It also makes for a great twist out.
2) Taliah Waajid Lock it Up (Tight Hold) (Purchase at most local beauty supply stores.)
This is another good twisting cream for long-lasting twist outs.  It may leave residue if you use too much.   I like to dilute mine with water and another moisturizer.  Mix the ingredients together in a bowl with a spatula for a whipped consistency.

3) Miss Jessie's Curly Buttercreme (Purchase at Target or Amazon)
Before I discovered Taliah Waajid, this was my original favorite for twists.  Even though the product is not all natural, it leaves my hair feeling very soft.
This is not a good product if you want to keep the twists in for longer than a few days because it only has a slight hold.  However, if you want luscious, moisturized twists and twist outs, this is the cream for you!
Also, this is NOT a natural product. It has mineral oil and if you are a person who doesn't like using non-natural products, this will not be the cream for you.
In the beginning of my journey, I tried to avoid non-natural products, but I've found that as long as I moisturize my hair underneath, my hair does fine.
I don't mind mineral oil from time to time.  It doesn't seem to have a negative effect on my hair as long as it's truly moisturized with a water-based product.
Most people seem to prefer Miss Jessie's Baby Buttercreme, but I like a bit of hold with my twisting creams.
4) Original Moxie Oasis Moisture Gel (Purchase Online)
I won't lie.  This product is quite expensive so I don't buy it often.  However, it really makes my twists shiny and leaves a nice hold.  You can see the flat twist style I created.
The reason it's priced higher is it uses a lot of high quality natural ingredients, however there are still many less expensive products out here that do a nice job.
5) Organic Root Stimulator Lock and Twist Gel (Beauty Supply and some Target locations)
This product works very similar to Taliah Waajid's Lock it Up gel on my hair, but is not as expensive.
Once again, I would recommend diluting with water and another moisturizer.  Many twisting gels leave a white residue because the ingredients that provide some hold tend to dry and flake after a few days.
6) Fruit of The Earth Aloe Vera Gel
Even though this product is for sunburns it works GREAT on natural and transitioning hair.
I use it for setting my rod sets.  It is super, duper moisturizing!!
Below is a style where I two-strand twisted my hair with Aloe Vera Gel while wet.  Then I rolled the twists up on perm rods.
You can find this product at Amazon, and even though Amazon usually has GREAT prices, you can probably get this cheaper at Walmart or another drugstore.
7) Oyin's Burnt Sugar Pomade
This is a wonderful product to use on a dry twist out (meaning you twist your hair after it's dry for a stretched look.)  You can get it on Amazon.
Here's a pic of my stretched twist out that I achieved by twisting my hair every night in 13-16 large twists using water and the Oyin pomade (more water than Oyin).  Then I take them down when I wake up in the morning.
Your hair will continue to stretch each night.  You can even stretch the hair more by making a ponytail overnight.
Deep Conditioning
Organics Olive Oil Replenisher (Purchase online)
My deep conditioning list is rather boring because this is the only product I use regularly.  I've used it since the start of my transition and found no reason to change.  It helps keep my hair soft, moisturized and it's reasonably priced.
I apply an ample amount to my hair after shampooing, cover with a plastic cap with a warm cloth inside (instead of sitting under the dryer).
I have also used Deva Curl Heaven in Hair a few times.  This stuff is AMAZING and you can even see your curl pattern pop when you apply it, but because of the price, I don't buy it often.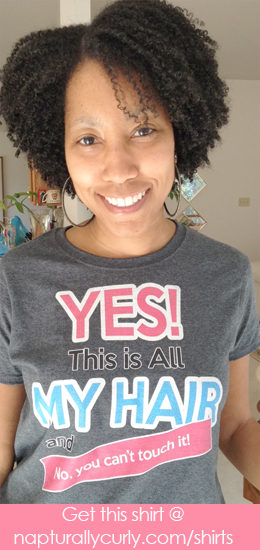 Moisturizers
Because I don't use any heat and deep condition my hair regularly, my hair does a pretty good job of retaining moisture.
My favorite right now is the Shea Moisture Leave-In Conditioner.
I believe this is one of the older Shea Moisture products because you can only buy it on Amazon.com and not in stores. After using this for 2-3 days, my hair feels so incredibly moisturized.  I hope they never stop selling this.  I would go nuts!
Even though it is labeled as a "conditioner", water is the 2nd ingredient and it has Aloe Vera which are two very good moisturizing products.  So this behaves more like a moisturizer on my hair.
To seal in moisture, I use Jane Carter's Nourish and Shine.
It's important to note that products that are water-based are moisturizers (water should be the 1st or 2nd ingredient), and oils are sealants that lock in moisture.
Using oil by itself will just sit on your hair and do nothing but give you glistening, dry hair. 🙂 In order to have properly moisturized hair, you need a true moisturizer (check the label and look for water) and then use a natural oil to seal it in.  This is very important if you live in a city where it gets very cold during winter.
Update: February 2013:  I just started using Qhemet Biologics Amla & Olive Heavy Cream.  It's a very thick, rich product that keeps my hair moisturized.   Oil is actually the first ingredient but water is 3rd, so it can still be considered a moisturizer.
In fact, this could actually be used as a moisturizer and sealant.
Read more tips on the best ways to moisturize your natural hair.
Dry Scalp
Be careful with twisting gels because they can leave flakes behind and make you think your scalp is flaking.
For months, I thought I had a dandruff problem, but when I did not style my hair with a twisting gel, I didn't have as much of an issue.  So it was the gel that was leaving behind flakes.
However, if you do have dry scalp, try mixing 1-2 drops of tea tree oil in one ounce of jojoba oil and apply it to your scalp as needed.  Jojoba oil is very closely related to the natural sebum our scalp secrets and tea tree has antifungal properties that can prevent dandruff.
I also find that doing hot oil treatments regularly will help keep your scalp more moisturized.
Also check out another great dry scalp remedy here.
The Multi-Product Myth
Unless you just like to experiment and try new hair products, you really don't need to buy a lot to maintain natural or transitioning hair.  You just have to find out what works for you and yes, that may mean investing more money in the beginning.
People often ask me what products they should use on their hair and I do not really know.  I can tell you what works for me, but it may not work for you and vice versa.  So keep that in mind.
Hair Typing
For those who keep track of hair typing, my hair is mostly 4a and 4b.  My texture is very cottony/fluffy and dries with no curl pattern unless I apply a defining product.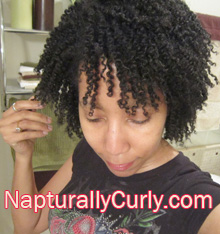 When it's wet, I can get very defined waves/curls with a product like Kinky Curly Custard (Whole Foods or Target) or Eco Styler Gel (beauty supply store), but my hair quickly reverts to its cottony texture after a few days.
My hair also holds rod sets and twist outs very well, which is why they are two of my go-to styles.
Be careful of getting caught up in hair typing. I used to think it would be useful to find out other's hair types so I could buy the same products.  The problem is many people classify their hair incorrectly according to the chart/definition.
Plus, there are classifications within the subtypes.
For example, I'm a 4b with some 4a near the nape of my neck, but my strands are fairly fine.  Someone else may have the same hair type but have very coarse, thick strands and the same products might work differently on their hair.
That's why it's better to just experiment with products until you find what your hair likes.
I personally believe the hair type chart is misleading, and I explain why here.
Save Money on Products
You don't have to spend a lot to transition or be natural.  Check out this article I wrote with some money-saving tips.
Most Popular Natural Hair Products
This page was all about my faves, but here's a list of some of the top (most popular) products based on global sales.